Wavelength
(1967)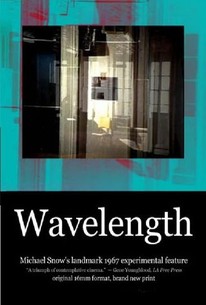 AUDIENCE SCORE
Critic Consensus: No consensus yet.
Movie Info
Wavelength is one of a handful of truly canonical works of American experimental film. Its use of film's material and formal foundations as a subject established it as one of avant-garde cinema's most conceptually advanced investigations into its own medium, echoing similar trends in modern painting and sculpture. Michael Snow himself described Wavelength as a continuous 45-minute zoom across a New York City loft, but this oft-repeated description does little justice to its complexity and variety. The zoom moves in stops and starts, at different times of day and night (seen through the three large windows that dominate the wall opposite the camera), and includes superimpositions, reversals, and several different film stocks, which provide a range of colors and textures. A rising sine wave accompanies it on the soundtrack. Fragments of narrative action occur only to be subsumed in the zoom's inexorable progress. In the beginning, two women bring a bookcase into the loft and leave. Later, after the sound of breaking glass is heard, a man (Hollis Frampton) enters and collapses dead on the floor. Later, one of the women (Amy Taubin), enters again, calls someone on the phone to tell them about the dead body, and leaves again. Towards the end of the film, a siren can be heard approaching. In a traditional narrative, these events would be central to the film's action, but in Wavelength, they exist only to reinforce the film's emphasis on the camera's ability to simultaneously represent and alter space. The zoom's relentless narrowing in, along with the changes in film stock and lighting, gradually transforms the loft from a three-dimensional space into a two-dimensional one. In the end, the zoom comes to rest on a small photograph of ocean waves (a two-dimensional object depicting three-dimensional space) mounted on the wall. Considered one of the major achievements of the "structuralist" film movement, Wavelength won first prize at the fourth International Experimental Film Festival, and established Snow as an important avant-garde filmmaker.
Rating:
NR
Directed By:
Written By:
Runtime:
Audience Reviews for Wavelength
½
It's a 45 minute zoom on to a picture on the wall of a room. Occasionally something happens, but mostly there's just a steady tone getting higher and higher in pitch. I'll give it 5/5 stars for innovation, artistic merit, surprising emotional depth, and lasting reputation in avant garde cinema. I'll give it 0/5 stars for being essentially unwatchable and headache inducing.
Michael Wilson
½
This film is a lot less dull than one might expect, considering it's basically just one slow, slow time-lapse zoom toward a picture on the wall of a (mostly) deserted room. What hooks me is the artificial tension created by the zoom and the droning, rising pitch of the soundtrack. Somehow this creates even more "suspense" than the entrance of a mysterious dying man. And hey, there's a vintage usage of "Strawberry Fields Forever" too. Did Apple bother to demand royalties?
Eric Broome
Super Reviewer
½
How do you score a movie like this? It's experimental avant-garde, it's a pile of crap, but that's what the director intended. It's soundtrack is a high-frequency squeal that gets higher and higher as the camera zooms slowly forward. A dude dies in the middle of the room. A ghost-looking chick uses the telephone. The pitch gets higher, the camera zooms closer to. . .a picture on the wall. I felt compelled to fast-forward through at a few points because I didn't want to wake anybody up with the incessant droning noise at 1:30 a.m., which I admit is cheating, but I could still SEE what was going on (nothing). So do you rate it highly because the director intentionally made it hideous, or do you rate it low because of its hideousness? It becomes something of a philosophical question, which I guess is better than nothing. So I'm voting this one straight down the middle, 2.5/5.
Andy Cramer
Wavelength Quotes
There are no approved quotes yet for this movie.