The Way Home (Jibeuro)
(2002)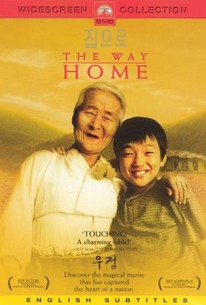 The Way Home (Jibeuro) Photos
Movie Info
Seven-year-old Sang-woo is left with his grandmother in a remote village while his mother looks for work. Born and raised in the city, Sang-woo quickly comes into conflict with his old-fashioned grandmother and his new rural surroundings. Disrespectful and selfish, Sang-woo lashes out in anger, perceiving that he has been abandoned. He trades his grandmother's only treasure for a video game; he throws his food and he throws tantrums. When Sang-woo's mother finds work and finally returns for him, Sang-woo has become a different boy. Through his grandmother's boundless patience and devotion, he learns to embrace empathy, humility and the importance of family.
Critic Reviews for The Way Home (Jibeuro)
Audience Reviews for The Way Home (Jibeuro)
This is a really nice movie, but the little boy in this was so obnoxious, I was waiting for grandma too wack him with her walking stick...yet she never did. I kept waiting for that moment when the kid redeemed himself for all the nasty things that he did to her, but it wasn't until the very end where he ALMOST did. Still not sure that I forgive him, but all in all the movie was quite enjoyable to watch.
Cynthia S.
Super Reviewer
A heart warming story, but very drawn out. Because of the Grandmother being mute and most of the dialogue coming from the Grandson, this almost comes across the way a silent movie would in that you take more notice of the visual things. A kind of cute, but serious film, but very drawn out.
Lady D'arbanville
Super Reviewer
A sweet and gentle film. The little kid is an absolute prick and you want to slap him, but of course it makes the journey of each character even better. It's a sweet and simple tale of family and is just a big smily watch.
Luke Baldock
Super Reviewer
The Way Home (Jibeuro) Quotes
There are no approved quotes yet for this movie.