We Are Legion: The Story of the Hacktivists
(2012)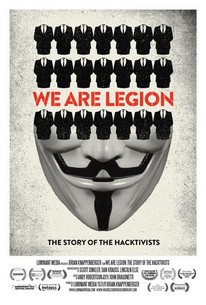 We Are Legion: The Story of the Hacktivists Photos
Movie Info
We Are Legion: The Story of the Hacktivists is a documentary that takes us inside the world of Anonymous, the radical "hacktivist" collective that has redefined civil disobedience for the digital age. The film explores the historical roots of early hacktivist groups like Cult of the Dead Cow and Electronic Disturbance Theater and then follows Anonymous from 4chan to a full-blown movement with a global reach, one of the most transformative of our time. -- (C) Official Site
News & Interviews for We Are Legion: The Story of the Hacktivists
Critic Reviews for We Are Legion: The Story of the Hacktivists
Audience Reviews for We Are Legion: The Story of the Hacktivists
Brilliant documentary on Anonymous, the Hacktivist group responsible for Civil Disobedience. This is a captivating film, a film that tells us a thoroughly entertaining story that we can get a clear understanding of the group's intentions and why they do this. Featuring interviews from its members, the documentary is a must watch and in terms of the documentary genre of film, this is one of the most stunning works as its subject is thoroughly captivating. I greatly enjoyed the film, and it's a riveting look at the group. I won't put my personal feelings on the group in the review, but I will say this, you can watch the film, and you definitely get a clear understanding of what they do, and decide for yourself if what they're doing is right or wrong. Even if you're for or against what they stand for, you have to agree that they have made an impact on the modern digital age. The film is well worth seeing, and as a documentary, it delivers a stunning portrait of it captivating subject matter. This in many ways is an important film because it tells us the story of one of today's most notorious groups, a film that delivers a thoroughly engaging look at a group that has a take no prisoners attitude towards free speech and other endeavors. Brilliant in showing that, it also shows different perspective on the group from within and outside as well. The film tells about the history of hackers, and it's a riveting, engaging and memorable film that is well worth your time if you're interested in the subject.
We Are Legion: The Story of the Hacktivists Quotes
There are no approved quotes yet for this movie.