We Are the Best!
(2014)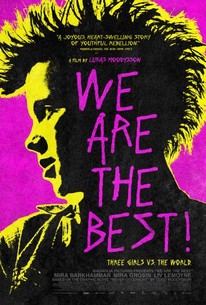 TOMATOMETER
AUDIENCE SCORE
Critic Consensus: Sweet, empathetic, and shot through with a palpable joy, We Are the Best! offers a tender tribute to the bittersweet tumult of adolescence.
Movie Info
WE ARE THE BEST! is Moodysson's adaptation of his wife Coco's graphic novel about three young misfits growing up in early '80s Stockholm. Pixieish, mohawk-sporting Klara (Mira Grosin) and her best friend Bobo (Mira Barkhammar) are 13-year-old rebels looking for a cause. Despite having no instruments-or discernible musical talent-the two put all their energy into forming an all-girl punk band, recruiting their shy, classical guitar-playing schoolmate Hedvig (Liv LeMoyne) as the third wheel. With tender affection for his young characters and the period in which his film is set, Moodysson paints an ebullient and sharply observant portrait of DIY spirit and growing up different. (c) Magnolia
People Who Like this movie also like
News & Interviews for We Are the Best!
Critic Reviews for We Are the Best!
Audience Reviews for We Are the Best!
A cracking coming-of-age punk rock girl power slice of 80's nostalgia.
Marcus Woolcott
Super Reviewer
½
Director Lukas Moodysson has an interesting perspective on friendship and family in this, his newest film from the country of Sweden. What exceeds expectations is Moodysson's grasp of the real life complexities and little forms of happiness in daily life. Read more at http://www.bluefairyblog.com/reviews/2015/4/25/we-are-best
Spencer S.
Super Reviewer
You want to have a blast at the movies? You know you do. Want to catch something completely off the radar that'll bring sheer joy and an anarchic spirit into your lives? WE ARE THE BEST is that film, the kind that'll make you wanna get a mohawk and bash the sh*t out of the nearest guitar. I've enjoyed the films of Lukas Moodysson (TOGETHER, SHOW ME LOVE, and LILJA 4-EVER), and here, adapting his wife Coco's graphic novel, he uses his populist story-telling sense and keen grasp of the absurdities of life to tell the story of 3 thirteen-year-old girls forming a punk band in early 80's Stockholm. Our main characters are Klara (hilarious, saucer-eyed Mira Grosin) and Bobo (the droll Mira Barkhammar), two best friends who are out of control in that believable young teen way. They skip out on their parents to go drink and smoke at a party or pull pranks at the local community center. It's here where they eject a legitimate band from the music room and start thrashing away on the available instruments. Almost completely lacking in talent, the girls enlist their serious, Christian classmate Hedvig (Liv LeMoyne) who has genuine musical talent and an unruly mane of hair just waiting to get SID AND NANCY'd. What I loved about Klara and Bobo is the enthusiasm and slight lunacy in which they form their friendship with Hedvig. One minute they're learning chord progressions and the next they're almost assaulting their new friend. Even when things go wrong, you're reminded how young they are, and like infants, they bounce back mighty quickly from their boo-boos. It's this resilience of spirit that drives the film and makes it shine. Moodysson shoots the whole thing Cinéma vérité style, giving the film a true documentary sense of immediacy. There isn't a moment in this film that feels like he's fetishsizing the 80s with overly composed frames or garish pops of color. This is closer to how the 80s really felt with its internet-free, dial telephone levels of boredom. It's the true atmosphere in which a young kid would want to rebel. While simple to adult viewers, you get the sense that every adventure the girls take is monumental to them, whether it's flirting with young guys from another band (a great sequence on a rooftop with haunting, wintry imagery) or playing their first gig. I fully believed that this is how young girls actually speak and interact. Grosin and Barkhammar form such a delightful bond, that you just want to listen in on their phone conversations forever. Looking like little boys, they're two sides to punk - one is outrageous and the other is eternally annoyed. Writing songs like "Hate The Sport", because, well, they hate their gym teacher, the girls' point of view is perfectly captured. The character of Hedvig is tricky, as she evolves from an almost puritanical figure to something quite lovely. She grows on you in a wonderful way. Same goes for the film. It doesn't matter that they never really improve as musicians. They're too busy making lifelong memories to care. Kinda makes you want to form your own band, eh? Kinda makes you want to form your own band, eh?
Glenn Gaylord
Super Reviewer
We Are the Best! Quotes
There are no approved quotes yet for this movie.