We Were Strangers
(1949)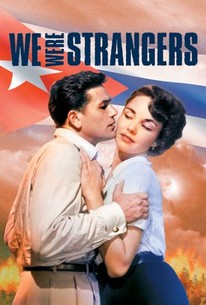 Movie Info
A political thriller set in Cuba in the 30s about a plot to overthrow the government led by a group of assorted revolutionaries.
Critic Reviews for We Were Strangers
Audience Reviews for We Were Strangers
Political drama of the initial Cuban upheaval pre-1933. Shown from the vantage point of the revolutionaries and their plot to overthrow the oppressive government in one fell swoop this is an unusual film for it's time period in that it doesn't shrink away from stating that the freedom workers might have to take innocent lives to acheive their goals. Huston's direction is assured and Garfield and Roland acquit themselves well but the picture is marred by two things. First is the overly obvious rear projection shots that occure throughtout the film and the larger problem that Jones is miscast in a part that would have fit Katy Jurado like a glove. She seems neither gritty enough, she is consistently glamourous even when digging beneath a cemetery!!, nor even remotely Cuban to be believable. Not a bad film just flawed.
We Were Strangers Quotes
There are no approved quotes yet for this movie.