Wedding in Galilee
(1988)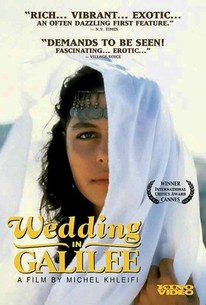 AUDIENCE SCORE
Critic Consensus: No consensus yet.
Movie Info
Filmed in the Arabic and Hebrew languages, Wedding in Galilee takes place in the occupied West Bank of Palestine. The story is set in motion by a village elder, who intends to give his son a traditional wedding. This may prove impossible if the elder cannot enlist the encouragement of the local Israeli leaders. To do this, he is forced to invite those leaders to the wedding. No mere "culture clash" drama, Wedding in Galilee is a multitextured drama that serves as an eye-opener for any non-Israeli or non-Palestinian who thinks he's got the mideast situation "figured out." ~ Hal Erickson, Rovi
Rating:
NR
Genre:
,
Directed By:
Written By:
In Theaters:
On DVD:
Runtime:
Watch it now
Cast
Critic Reviews for Wedding in Galilee
All Critics (2) | Fresh (2) | Rotten (0)
New York Times
Top Critic
Washington Post
Top Critic

Chicago Reader
Top Critic

Audience Reviews for Wedding in Galilee
In " Wedding in Galilee," Mukhtar(Mohamad Ali El Akili) would like nothing more than to throw his son(Nazih Akleh) a wedding to remember. The problem is the strict Israeli curfew would definitely shorten the celebration and ruin the festivities. So, a subordinate in the Israeli army comes up with the novel solution of Mukhtar inviting the military governor(Makram Khoury) to the wedding. With that settled, Mukhtar goes about inviting the whole village. So while plans are made, so too are plots. Through a variety of subplots and set mostly over a single eventful day and night, "Wedding in Galilee" serves as an excellent allegory of the entire Israeli/Arab situation. While there is a great deal of promise shown in coexistence, with both sides actually working together at one point, the movie is just as emphatic at showing the difficulties in achieving true peace in the region. Of separate interest is surprisingly how sensual this is for a Middle Eastern film.
½
First, the sequel. [b][size=5]The Bourne Supremacy [/size][/b][size=5][size=2]Directed by: Paul Greengrass [img]http://www.hollywoodjesus.com/movie/bourne_supremacy/logo.jpg[/img] Like the first one, I don't quite see why these films get the kind of love some give them, but it's a well-executed, well constructed, above-average genre film. I liked this one slightly better then the first I think. It got rid of the worthless love story subplot, and I liked the action scenes a little more. I was never bored, and usually very engaged. They walked a pretty fine line in keeping the plot complicated, but not difficult to understand, which is important for an action movie like this. Anyhow, the acting was pretty good, I like Joan Allen, Brian Cox and Matt Damon generally anyway, and they all do a good job. But of course, it's not the human condition we seek in this film, it's thrills and suspence, and it delivers on both of these on above average levels. And now, for [size=5]the new project[/size]: I have decided that I want to see at least [i]one[/i] film from every country in the world, at least that I have access to. I don't know how long it'll take, and I'm not gonna be in a rush, but I'm going to make a conscious effort to see films from countries that I haven't yet seen films from. To start out with, I've seen films from: America Canada Mexico Brazil Great Britan Ireland Spain France Italy Germany Poland Russia Afganistan China India Japan Australia There may be one or two others, but I can't think of anymore off hand. Anyhow, as of today, I can add another country to the list: [size=4][size=5]Palestine: [/size] [b][size=5]Wedding in Galilee [/size][/b][size=5][size=2]Directed by: Michel Khleifi [img]http://cover09.cduniverse.com/MuzeVideoArt/61/103061.jpg[/img] [/size][/size][/size] This slice-o-life film, about a Palestinian family who, in order to get permission to hold a long, traditional wedding for their son, is forced to invite the military governor of their area to the wedding. Anyhow, it starts off very good. It has strong charcters, a nice, documentary-light type style to the look of it (apparently most of the directors work is in documentaries), and the situation is ripe with possibilities. It loses focus in the last half hour or so, it wanders thematically and overstays it's welcome, but it isn't ever boring, and it's got strong enough characters to keep you interested. I liked the essentric grandpa best. I was a bit surprised that this film had as much nudity as it did, which is quite a bit actually, considering it comes from an arab culture. Just goes to show you how much sub-cultures can vary within larger cultures. But yah, basically, not a great film, but a worthwhile look from an interesting culture. [/size][/size]
Cliff Smith
Discussion Forum
Discuss Wedding in Galilee on our Movie forum!
News & Features