Weekend
(2011)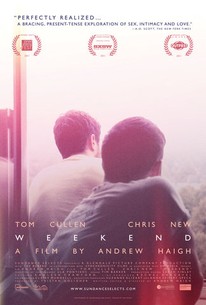 Movie Info
Weekend follows Russell (newcomer Tom Cullen, Best Actor winner at Nashville), who, after randomly picking up artist Glen (Chris New) at a nightclub on a Friday night, unexpectedly spends most of the next 48 hours with him in bedrooms and bars, telling stories and having sex, while developing a connection that will resonate throughout their lives. This affecting and naturalistic romance is beautifully realized, earning comparisons to Richard Linklater's Before Sunrise in its exploration of how two people can come together only briefly, yet impact each other in a profound way. -- (C) Sundance Selects
People Who Like this movie also like
News & Interviews for Weekend
Critic Reviews for Weekend
Audience Reviews for Weekend
½
A wonderfully honest and realistic portrayal of a sexual encounter leading to something profound and unexpected, and it is in essence a universal story that makes it so easy for us to empathize with these characters who are so three-dimensional, well constructed and complex.
Carlos Magalhães
Super Reviewer
½
The film is very one dimensional, but looking back, it was quite beautiful in its simplicity. The chemistry is great, and the acting is excellent. Everything is visceral, real, intense, natural, and intimate. Nothing is forced and nothing is feigned. It's artistic in its minimalist style as well, and definitely worth seeing again.
Matthew Samuel Mirliani
Super Reviewer
½
I've heard that "Weekend" is an honest portrayal of a homosexual hookup - I'll have to take the "experts" word for it, having never encountered one myself, however I will say that in regards to ANY relationship this film is indeed an honest portrayal of that mystery of first encounter. As the crisp dialog of writer director Andrew Haigh so succinctly puts it, "that first meeting is like a blank page, and you write on it with how you want to be perceived". Yep, there's plenty of truth in that statement, regardless of your sexual orientation, and indeed, the writing here is solid throughout, as are the performances of what essentially becomes a two person play with peripheral characters added. Both Tom Cullen and Chris New are so very natural in their performances as two gay men who hook up in a bar one night, spend much of the next morning talking deep topics, and then decide to meet again that night. Much is conveyed in this one weekend and one can say that one life was changed and with the second... well, there's always hope. While gay topics are discussed here (and a warning, there are gay "situations" shown, so if you're homophobic... well, I doubt that you'd be seeing this film to begin with (though what it has to say about human desire and that nasty four letter word "love" makes this a worthwhile view in spite of being couched in gayness). The questions asked in the film and its almost poetic story arc are deep and sincere, and while I give Haigh the writer full marks, while Haigh the director, well, not so much in spite of creating an environment where the camera often seems to be a fly on the wall, simply a witness to what happens. Haigh nicely shoots around and through things - for example shooting between two bodies in a bar as we listen in to a conversation; or the climatic scene where the camera is behind a chain link fence (adding a feeling, not only of realism, but of the characters being, for lack of a better term: trapped). These scenes show a deft artfulness which makes the terrible editing all the more jarring. No dissolves or fades, just quick cut from scene to scene. This could be budgetary, but could just as likely have been a "creative" choice to appear "artsy" - in any event, it's jarring and plain and simple takes you right out of "being there" within the film. The same holds true for the sound track - while being uber natural, it came as a big distraction that much of the words during an important scene were buried beneath the crinkle of a candy bar wrapper. Similarly there is another scene where the script is rendered all but unintelligible by the fact that New is speaking while his face and mouth are partially buried in a pillow - making for a nice visual, but losing the import of the words is not a fair trade off. However, Haight does an admirable job of letting you feel what Cullen is going through; an orphan who, in spite of having straight friends, feels out of step with the world around him, and oft times painfully alone. That he opens himself to New is deftly handled - and the wonder and fear of love, with all of its possibilities is on raw display and therefore a worthwhile view.
paul sandberg
Super Reviewer
Weekend Quotes
| | |
| --- | --- |
| Glen: | Look, straight people like us as long as we conform, behave by their little rules. Imagine your friends, if you suddenly started getting all really political about being a fag or you got suddenly like camp or swishy or talked about rimming all the time. |
| Russell: | Yeah, but that's not what i' m like, is it? That's not who i am. |
| Glen: | Well, trust me they like it, as long as we don't shove it down their throats. |
| Russell: | OK, well, why should i just shove it down their throats? |
| Glen: | Because they shove it down our throats all the time, being straight... straight story lines on television, everywhere, in books, on billboards, magazines, everywhere. But, oh, the gays, the gays... (gasps) We mustn't upset the straights. Shh, watch out, the straights are coming. Let's not upset them, let's hide in our little ghettos, let's not hold hands, let's not kiss in the street, no. |
| | |
| --- | --- |
| Russell: | Dad? I got something I need to tell you. |
| Glen: | [pretending to be Russell's dad] What's that? |
| Russell: | I'm gay. |
| Glen: | [pretends to think] Hmm. |
| Russell: | I like guys, not girls. |