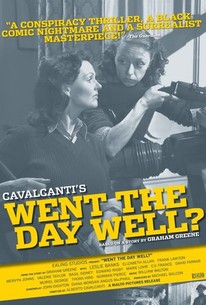 Went the Day Well?
1942, Drama, 1h 36m
14 Reviews
500+ Ratings
Where to watch
Rent/buy
Rent/buy
Rent/buy
Rate And Review
Went the Day Well? Photos
Movie Info
Residents of an English village unwittingly welcome Nazi soldiers who intend to take over their town.
Audience Reviews for Went the Day Well?
Went the day well? Now that you mention it, Saturday, May 23, 1942, started off nicely enough in the hamlet of Bramley End with the preparations for a wedding being a particular highlight. Major Hammond(Basil Sydney) creates quite a stir when he and his men show up unannounced for military exercises but everything eventually works out as the vicar(C.V. France) agrees to house the soldiers in the village hall. Unbeknowst to everybody except for Oliver Wilsford(Leslie Banks) because frankly he is a traitorous rat bastard, the soldiers are really Nazis, ordered to secure the village and block communications for a planned invasion of England. However, the villagers start to get suspicious which calls for Plan B. "Went the Day Well?" might have originally been conceived as just another propaganda movie during World War II to urge the people of England to be ever vigilant and reminding them that no place is truly safe.(For the record, I put a slash through my 7's because my atrocious handwriting needs all the help it can get.) But the material is handled exceptionally well, turning this into an exciting thriller that thrives on the details of village life which makes the sense of loss that much greater in its depiction of ordinary people rising to new heights under extraordinary circumstances.

1942. That is the important date to bear in mind when watching this film. That was when the film was made, and when the UK cinema auidences watching it knew that all that separated them from invasion was a few miles of sea. Imagine the impact it must have had!! Plucky Brits, living in the rural English idyll, threatened by the Hun. Having witnessed their brave fight, the auidences must have come out of the flicks wanting to take on the German army on their own. The comparisons with 'The Eagle Has Landed' are easy to make, but just remember that date of 1942. The threat was real to the people watching it, unlike those watching 'The Eagle' for the very first time. Cracking afternoon entertainment, with a message of its time.
See Details