West 32nd
(2007)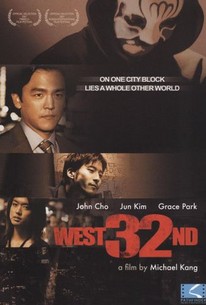 AUDIENCE SCORE
Critic Consensus: No consensus yet.
Movie Info
Fresh off the success of his Humanitas Award-winning third feature The Motel, director Michael Kang weaves this modern noir drama detailing the events that transpire when a New York lawyer (John Cho) inadvertently becomes mixed-up with a gang of violent Korean gangsters. Former Dreamworks investor and South Korean film giant CJ Entertainment finances a film produced by Teddy Zee and featuring a special appearance by Marrying the Mafia star Jung Jun-ho.
Critic Reviews for West 32nd
All Critics (2) | Fresh (1) | Rotten (1)
Writer/director Michael Kang seems to be going for a Mean Streets vibe, but he's no Scorsese, at least not yet.
A well-made, street-stylish drama that defies stock Hollywood storytelling conceits with its complex themes and grey-area approach to its subject matter.
Audience Reviews for West 32nd
If these folks had had a bigger budget, I'm sure this would have been an even better show. Still, it's very good. I'm fascinated by upwards of 50% of this movie, based in K-Town, Queens, NY, utilizing the Korean language, and by the fact that John Cho, both in real life and in the film, is barely able to speak the language. This Americanization and the distancing from one's heritage plays a key role in keeping Cho's character always slightly outside, always slightly "other." Of course this is ironic, since Cho represents mainstream America, and the payoff with this cultural distancing is that Cho distances himself not only from his Korean-ness but right out of mainstream humanity in the end. West 32nd Street is the main strip, the heart of K-Town in Queens, and Cho's venture into this heart ultimately means that he destroys his own heart.
Probably my favorite aspect of this whole story is the tribute paid to Bittersweet Life -- definitely one of my all-time favorite Korean films. I watched this three times -- the final time with the commentary on. It takes a lot nowadays to get me to watch a movie more than once.
Lanning : )
Super Reviewer
½
Michael Kang is a Korean American filmmaker, and West 32nd is a crime drama that matches his description.
As this picture takes place in New York City, the film does a nice job of showing Korean culture in an American setting. It is a little difficult to say if the fusing of American and Korean cultures is successful, since a good portion of the film does focus on the Korean mafia. It really does feel more like a Korean crime drama than a Hollywood one.
The pacing of this 80+ minute film is slow going, despite some of the quick scene jumps and story advances. The early going is a bit bland and so is the plot. Eventually, things pick up as the story progresses.
John Cho doesn't exactly steal the show here, since Jun-seong Kim is the one doing that, but his portrayal of a Korean American lawyer is not a failure. The same can be said about the acting of the beautiful Grace Park.
West 32nd doesn't hit the ball out of the stadium with a big budget, intense action, or even an exciting story. It just does enough to get by.
West 32nd Quotes
There are no approved quotes yet for this movie.