Wheelman
(2017)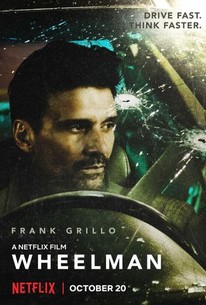 Movie Info
Frank Grillo (Kingdom, Captain America: Civil War) stars as the wheelman, a getaway driver thrust into a high stakes race-to-survive after a bank robbery goes terribly wrong. With a car full of money and his family on the line, the clock is ticking to figure out who double-crossed him and the only person he can trust... his thirteen-year-old daughter. All reasons to think fast and drive faster.
News & Interviews for Wheelman
Critic Reviews for Wheelman
Audience Reviews for Wheelman
½
It's been a good year for getaway driver movies. Now the only question I have is: Does anyone else think that this is the better one?
Wheelman is Baby Driver meets Locke. As far as films that take place in one location throughout the entire duration go, this is one of the best I've seen in a while. I can see why films like this may bore some people into losing interest early on, but this particular film does a great job of keeping you engaged, using various filmmaking techniques. Netflix hasn't put out the greatest content in terms of original films, but I feel like they've been righting that wrong lately. Wheelman is a very enjoyable thriller that is short, to the point, and will come highly recommended by myself, and here's why. Knowing that this film takes place in our lead character's car throughout the entire duration can be a daunting thought, but know this as well; It's only 82 minutes long and it flies by. In an unnamed role, Frank Grillo plays a driver who has been set-up duration a heist. Leaving his passengers in the dust, he must keep his family safe, come up with a solution, and try to get out free, all while remaining in his car and using phone calls to whomever each issue may concern. This aspect alone is what made this film such an intense ride, at least for me. When a film chooses to set itself in one location, that could honestly make or break your film if the script doesn't have enough going on, but this movie is able to hold your attention, due to its quick pace and need to continuously inject plot twists into the mix of everything. With the addition of a terrific and devoted performance by Frank Grillo, this film soars above movies like Devil or even Phone Booth. For the premise at hand, always needing to keep moving, there really isn't a single down moment for you to catch your breath, but that's okay because the runtime is so short. As aforementioned, the driver constantly needs to be on the run throughout this entire film, and I feel as though director Jeremy Rush has done a wonderful job in keeping you on the edge of your seat and displaying cool action sequences every ten to twenty minutes. This is a rare movie that manages to give you an emotional backstory with his family while juggling chase sequences during that same scene and managing to actually make you feel engaged and moved at the same time. That's a very hard thing to do, so I have nothing but praise in terms of its pacing. If you're looking for a great film about a getaway driver, I'd recommend this year's Baby Driver, and if you're looking for an emotional roller coaster that takes place in one car, I'd recommend Locke, and even though I would recommend those over Wheelman any day, I'd have to say that it's also a nice mix of the two and has a far shorter run time, making for a very solid, breezy viewing experience. ?In the end, this is a very well-done film that delivers in terms of action and satisfaction, and even though it continuously borrows elements from other films, it's still a blast throughout the majority of it. Although familiar, Wheelman comes recommended in my books.
Wheelman Quotes
There are no approved quotes yet for this movie.