When We First Met
(2018)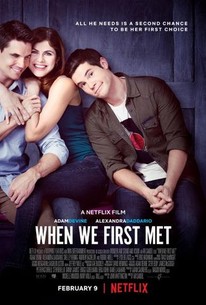 Movie Info
Noah (Adam Devine) spends the perfect first night with Avery (Alexandra Daddario), the girl of his dreams, but gets relegated to the friend zone. He spends the next three years wondering what went wrong--until he gets the unexpected chance to travel back in time and alter that night--and his fate--over and over again. Will Noah ever get it right? Directed by Ari Sandel (The DUFF) the film co-stars Shelley Hennig, Andrew Bachelor and Robbie Amell.
Critic Reviews for When We First Met
Audience Reviews for When We First Met
Netflix has been known to pick up independent comedies fairly often, and while I'm not opposed to a good quirky comedy, none of them have really stood out on their streaming service. That being said, When We First Met has been released unto the world recently, and it's probably one of the better ones in the genre, as far as their original content goes. When going into this movie having only seen a brief trailer that they released, I wasn't sure what to expect, but I surprisingly got a comedy that's a nice mixture of elements from movies like Back to the Future and Groundhog Day. No, there's no reality in which I would compare When We First Met to classics like that, but take the plot of those films and apply it to a romantic comedy and that's pretty much what you get. This is about as average as you can possibly get in terms of originality, but hey, I had fun with this movie. Following Noah (Adam Devine) as he meets the girl that he's destined to be with on Halloween back in 2014, this is a doomed romance that will only result in friendship for him. After being given the opportunity to travel back in time and alter reality as many times as he likes, he works very hard to make her his wife. This may not exactly work out for him, but the different scenarios that blossom from each of his decisions are funny to watch and the conclusion of the film does send a nice message. By the time this film had reached its climax, I was sold, even if it was just average throughout its entire duration. I think my mind was changed due to the fact that I enjoyed this cast so much. When it comes to quirky comedies, your film's pretty much doomed if your cast isn't completely present with their performances. To add to that statement, I was never a huge fan of Adam Devine when he first came into the spotlight a while ago. With his performances in the television show Workaholics to his appearances in the Pitch Perfect films, I found myself quite annoyed by his overacting. That being said, I have grown to enjoy him in movies nowadays and When We First Met is just another addition to his filmography that continues to win me over. He, along with Alexandra Daddario, Shelley Hennig, and Robbie Amell, all add quite a bit of fun through their performances, even though none of them were all that noteworthy. This is a film that surprised me in terms of comedy because I found myself laughing throughout the majority of this movie. Mind you, most of the jokes were juvenile, but for every joke that didn't work, I was latching onto the development of each of these characters. As I said, there's nothing to love about this film as a whole, but I'd be shocked if this cast didn't at least win you over during the dull or repetitive aspects to this movie. In the end, this is just a solid cast, in an average movie, elevated by funny dialogue and nice character progression. When We First Met is a neat premise, but it's been done many times in the past, so originality is already out the window upon first viewing. Netflix still hasn't hit their stride with feature films, but I'd say that this film's definitely moving them in the proper direction. When We First Met won't ever win a single award, nor does it deserve to, but the messages and the overall outcome is worth watching, at least for some viewers. If you have nothing better to do, there are far worse movies to watch.
When We First Met Quotes
There are no approved quotes yet for this movie.
Discussion Forum
Discuss When We First Met on our Movie forum!