Which Way Home
(2009)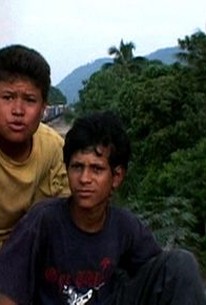 Movie Info
As the United States continues to build a wall between itself and Mexico, Which Way Home shows the personal side of immigration through the eyes of children who face harrowing dangers with enormous courage and resourcefulness as they endeavor to make it to the United States.The film follows several unaccompanied child migrants as they journey through Mexico en route to the U.S. on a freight train they call " The Beast ". Director Rebecca Cammisa (Sister Helen) tracks the stories of children like Olga and Freddy, nine-year old Hondurans who are desperately trying to reach their families in Minnesota, and Jose, a ten-year-old El Salvadoran who has been abandoned by smugglers and ends up alone in a Mexican detention center, and focuses on Kevin, a canny, streetwise 14-year-old Honduran, whose mother hopes that he will reach New York City and send money back to his family. These are stories of hope and courage, disappointment and sorrow. They are the ones you never hear about - the invisible ones. --© Official Site
Critic Reviews for Which Way Home
Audience Reviews for Which Way Home
½
'Which Way Home' is an incredible documentary that reveals some sincere insight into the journey that many Central Americans make: attempting to enter the United States. Heartfelt and magnificent, this film illustrates the demanding journey north in the most honest way I've ever seen.
Jordan Satmary
A documentary which shows the other side of the cross-border immigration. Unlike most other documentaries, this movie is produced from the other side of the fence. "Which Way Home" could raise awareness to the average Americans that behind all the immigration debate, there are millions out there who are trying to get a chance at a better life.
Thomas Andrikus
I just finish seen this documentery with my kids.we strogle and is not easy to have sometimes what we need or like me been a single mother..but looking at this it brake my heart for those kids specialy it make me a little mad because if not only I could give my kids a better life but to have to help other...my kids 16 year old daugther was just quiet and got little surprice wen there were not only boys but there were a little girl goin to tha dengerous situations..my son 10 yr he was asking alot of question they dont speak spanish even tha we are latin.by boy of 15 yr he say it so sad to see kids doing tha.hungry,dying alone and my son is asperger/autism. but yea with pray for them and I thanks those people who help them in away and for the camara crew and all who make this posible to see this..
mia von
Which Way Home Quotes
There are no approved quotes yet for this movie.
Discussion Forum
Discuss Which Way Home on our Movie forum!