Whistling in the Dark
(1941)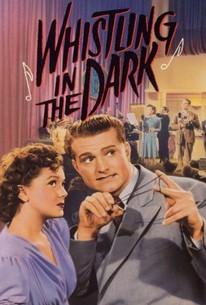 AUDIENCE SCORE
Critic Consensus: No consensus yet.
Whistling in the Dark Videos
Whistling in the Dark Photos
Movie Info
Though based on a stage play by Laurence Gross and Edward Childs Carpenter (previously filmed as an Ernest Truex vehicle in 1933), MGM's Whistling in the Dark was clearly inspired by the success of Paramount's Bob Hope comedy-mystery The Ghost Breakers. In his first film starring role, Red Skelton plays radio actor Wally Benton, better known to his fans as that intrepid crime-solver "The Fox". On the eve of his wedding to perennial fiancee Carol Lambert (Ann Rutherford), Wally is summoned to the mansion of cult leader Joseph Jones (Conrad Veidt). Though he preaches a message of "radiant contentment" to his followers, Jones is actually a racketeer who hopes to get his hands on a $1,000,000 inheritance. The only person standing in the way of Jones' windfall is the sole heir, mild-mannered Mr. Upshaw (Lloyd Corrigan), who is about to take a business trip by plane. Impressed by "The Fox"'s encyclopedic knowledge of crime, Jones wants Wally to plan a "perfect murder", one which will put Upshaw out of the way without detection. Naturally, Wally balks at this, but he is persuaded to go along with Jones when the latter kidnaps both Carol and Fran Post (Virginia Grey), the daughter of Wally's sponsor (Henry O'Neill). Considerately, Jones gives Wally till 11 o'clock to come up with his plan, leaving our hapless hero in the "care" of hulking henchman Sylvester (Rags Ragland). Fully aware that neither his life nor those of Carol and Fran will be worth five cents once Upshaw is murdered, Wally spends most of the evening trying to concoct a way out of his jam. Full of hilarious one-liners and sidesplitting slapstick, Whistling in the Dark is also quite suspenseful--especially in the final reel, wherein the best line is delivered by the pop-eyed potential murder victim. So well received was Whistling in the Dark that MGM rushed out two sequels, also starring Red Skelton, Ann Rutherford and a "reformed" Rags Ragland.
Rating:
NR
Genre:
, ,
Directed By:
Written By:
In Theaters:
On DVD:
Runtime:
Studio:
Warner Home Video
Critic Reviews for Whistling in the Dark
There are no critic reviews yet for Whistling in the Dark. Keep checking Rotten Tomatoes for updates!
Audience Reviews for Whistling in the Dark
½
I remember Red Skelton faintly from his old TV show. His show was cancelled in the Great Demography Purge of the early '70s, when the networks noticed that the people who watched their highly rated shows were not the most desirable targets for their advertisers. New shows were skewing younger and more urban, and Skelton's show, still in the Top Ten, was canceled anyway. He was one of the most gifted physical comics ever. A few years after his show was cancelled, I remember him as a guest on the Tonight Show, when Carson was still doing a 90 minute show. Skelton was absolutely killing, and Carson bumped the remaining guests so he and Skelton could play. I was surprised to learn on IMDB that before his TV show, he starred in over 30 movies. I always thought his movie career to be a bit tepid. I can't name classic Skelton movies the way I can Marx Brothers or Preston Sturges movies, but he must have moved tickets because they kept him around for an awful long time. Whistling in the Dark was the first of the Wally "The Fox" Benton movies he made. It makes far too little use of his unique physical gifts, most of the humor leaning on wisecracks. Honestly, you could have slipped Bob Hope into the role without a bit of difference. This may be why his movies didn't make nearly the impact of the series, where this supremely physical comic could take full advantage of that supremely visual medium. One thing that struck me about Whistling in the Dark is the nature of the cult, whose leader, played by Conrad Veidt, kidnaps Wally, who is a master plotter of mysteries, to force him to plan a foolproof murder. The cult is going through a ritual funeral at the beginning of the movie. It takes place on the grounds a huge mansion in Upstate New York. The weirdly-robed leader of the cult directs all the members, who are all middle-aged women and similarly robed, through the mumbo-jumbo of the rite. Once the plot is set in motion, the robes are gone, and the cult leaders are just regularly clothed villains. The whole cult angle is really only seen at the beginning and is incidental to the plot. The villains could just as easily have been the usual gangsters you saw in the movies back then. Such an odd choice. But it was also interesting to note that cults were commonly-enough known to audiences back then to be used as an identifiable concept in a light comedy. And their understanding of cults are not a whole lot different than ours are now - a messianic, charismatic leader leads a group of weak-minded gulls and extracts both their devotion and their money, with weird rites and costuming.
Snappy comic thriller with Skelton funny as radio performer The Fox ably assisted by Ann Rutherford and Virginia Grey both full of sass.
AWESOME FUNNY MOVIE ONE OF MY FAVORITE RED SKELTON MOVIES AS THE WOLF A RADIO PERSONALITY WHOSE REAL LIFE ADVENTURES MATCH THOSE OF HIS RADIO CHARACTER. MYSTERY & MAYHEIM ARE THE RESULTS PLUS CONRAD VEIDT AS THE BAD GUY-NOBODY PLAYED VILLIANS BETTER!
Gregory Wood
Discussion Forum
Discuss Whistling in the Dark on our Movie forum!