Das Weiße Rauschen (The White Sound)
(2002)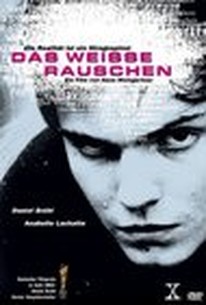 AUDIENCE SCORE
Critic Consensus: No consensus yet.
Movie Info
The White Sound begins as a young German, Lukas (Daniel Bruehl), takes a train from his family home in the country to his new home in Cologne where he plans to move in with his older sister, Kati (Anabelle Lachatte). Arriving at the train station, he finds that Kati isn't there, and wanders about in a nervous daze until she finds him. Later, at her flat, he's warmly greeted by Jochen (Patrick Joswig), Kati's hippie-ish boyfriend. Lukas goes out partying with them, and meets a girl (Katharina Schuttler), with whom he quickly makes a date. They plan to see Taxi Driver, but when they arrive at the theater, they find out that the film hasn't opened yet. His date takes it in stride, but Lukas freaks out, screaming obscenities at the hapless cashier in a paranoid frenzy. His date runs off, frightened. Lukas doesn't know it yet, but he's descending into schizophrenia. The film chronicles his breakdown as he begins hearing whispers that grow more and more threatening, eventually telling him that Kati and Jochen find him disgusting and plan to kill him. The only thing that seems to soothe his psyche is the "white noise" of the water running in the shower. One day, in a panic, he jumps from the window of his room, and at the hospital, he and Kati get the terrible diagnosis. Lukas begins taking medication, gets a mundane job, and seems to be functioning fairly well. But despite Kati's best efforts, he can't maintain his sedated new life. He stops taking his medicine and runs off. Director Hans Weingartner studied cognitive science before becoming a filmmaker. The White Sound is his debut feature. ~ Josh Ralske, Rovi
Rating:
NR
Genre:
,
Directed By:
Written By:
In Theaters:
Runtime:
Cast
Critic Reviews for Das Weiße Rauschen (The White Sound)
All Critics (1) | Fresh (0) | Rotten (1)
New York Times
Top Critic

Audience Reviews for Das Weiße Rauschen (The White Sound)
½
Weird, depressing but effective movie about schizophrenia and how it affects the people surrounding, and of course the person with it. It's really kind of odd to watch, and the actors were pretty good, as if it was natural.
Amanda Ø.
½
This film starts out pretty slow and a bit of a chaotic mess. We really don't get to learn much about our characters before things take a steep turn. Perhaps this makes it more real... we're kept at a distance from their lives, but we're allowed inside so intimately into the main character's head. We get to listen in on the voices in his head. My father had a long battle with cancer for several years and was on morphine for many of those... morphine makes you hallucinate if you take enough - and he took more than enough. He started hearing voices in his head. At first, I almost believed his neighbors were trying to kill him and plotting against him. I helped him move house about 3 times - after the first move, when he was still hearing voices trying to kill him - I realized he was going nuts. He would hear them when I was around and tried to get me to hear them. He also tried to get me to write stuff down so they wouldn't hear me and respond or comment. He kidnapped me at gunpoint as well... it was pretty insane. Apart from that, I dated a girl during college who was schitzophrenic and bipolar... I hadn't realized she was hearing voices in her head, but this certainly explains a lot. The acting in this film is pretty good... seems pretty natural even though a bit amateurish at times. Danny Bruhl reminds me of a young Ewan McGregor or Ethan Hawke (or both). The way it's filmed adds to the realism because it appears to have been shot digitally and handheld. Outdoor shots are vibrant and perhaps blue cranked while indoor shots are very orange - they appear to have used mostly available lighting. It also seems to have been filmed beginning to end and you can tell by the acting that they start to get more and more into their roles. My problem with the film is that it's just fucking depressing... there's no real merit to it aside from having the experience of watching someone go through that. You're never really given much reason to like these characters enough to care. It's not too difficult to watch, just a bit uncomfortable. If you like watching something that's a bit of a downer, then I'm sure you'll enjoy this. I suppose another problem I had with the film was how he became a paranoid schizophrenic... it was so abrupt. They seem to suggest that a dose of shrooms would do it - anyone who has taken shrooms would probably find that absurd. But I wouldn't know. Besides that possible reason, they give no other except that Lukas acts a bit strange in the beginning before the voices show up. Then again - my father went nuts like this after taking morphine for a long time... so perhaps this is all pretty authentic. That doesn't make it something I'd recommend seeing. The description of the plot says this doesn't become a clinical case study - but perhaps that's all this is good for. There's no message that I can find... it just shows people what it's like being and living with someone who is a paranoid schizophrenic.
Max A.
The White Sound is a realistic portrayal of how someone suffers from dillusion and mental illness. This film is far better than A Beautiful Mind because it explores the burden, pain and confusion of someone with schizophrenia. The voices in the background are very ceepy and haunting, accompanied by very fine performances from its actors especially Daniel Bruhl... Hans Weingartner is definitely one of those interesting directors who can bravely depict sensitive subject matters accurately. No doubt that this film is well researched and based on actual cognitive science, The White Sound deserves every recognition it received outside and inside Germany.
First Last
Discussion Forum
Discuss Das Weiße Rauschen (The White Sound) on our Movie forum!
News & Features