Why We Ride
(2013)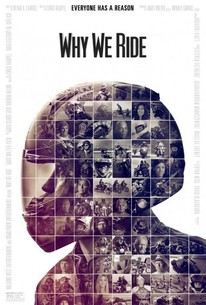 AUDIENCE SCORE
Critic Consensus: No consensus yet.
Movie Info
An inspiring celebration of the motorcycling community, this documentary film shares the passion of motorcycle riding and shows the camaraderie of the friends and families who ride together. As told by the many racers, riders, pioneers, and parents in the sport, the story weaves its way through generations of motorcyclists who live each day to the fullest on their two-wheeled machines. The refreshing message about the joys of motorcycling, coupled with state of the art photography, capture the imagination and set the soul in motion.
Critic Reviews for Why We Ride
Audience Reviews for Why We Ride
½
The passion of riding a motorcycle is an aspect of many people. With Why We Ride, we get an in depth look at this passion, the reasons why people are attracted to motorcycles and why they love to race. I've seen my fair share of motorcycle documentaries, and Why We Ride is one of the best that I have seen. The documentary gives the viewer a look at the passion and connection that riders have, and it's a captivating look at the bike culture. The history of the machine is explored here as well, and it's an in depth, an entertaining look at this culture. Motorcycles are wonderful, and are a lot of fun to ride, and with Why We Ride is a memorable and well crafted documentary that tells about the passion of motorcycling. With interviews from different rides, this is a well crafted documentary that gives you incredible insight about this passion, and you end up understanding their drive, their wiliness to enjoy the open road on a motorcycle. As someone who's ridden motorcycles, I thoroughly enjoyed this film, and I definitely understand where every rider comes from. Not only that, but this documentary is quite inspirational as well. I thoroughly enjoyed the documentary, and it captures a terrific subject on camera, and for everyone who is interested or loves motorcycles, this is a must watch documentary, a superb film that you won't forget and above all, you'll have a much broader understanding about this passion. Motorcycles are a lot of fun, they're sexy, beautiful and when you get on a bike, the feeling is unmatched to anything that you've ever felt before. Why We Ride is a great documentary, and a must see for motorcycle enthusiasts.
Why We Ride Quotes
There are no approved quotes yet for this movie.