Wildfire: The Arabian Heart
(2010)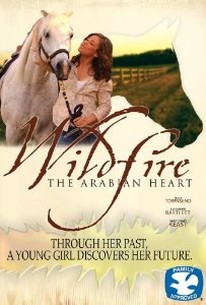 AUDIENCE SCORE
Critic Consensus: No consensus yet.
Movie Info
A teenage girl sets out on a cross country trip to visit her uncle in the Midwest, discovering that she has what it takes to be a true competitor after she's tricked into participating in a local horse race. All Lindsey knows about her Uncle Jack is that he lives on a ranch, and he's haunted by a past tragedy he never speaks of. Upon arriving at the ranch, Lindsey reconnects with her uncle and falls for handsome ranch hand Logan. But her greatest challenge is yet to come, because despite the fact that Lindsey has virtually no riding experience, she's hoodwinked into racing spoiled rotten Abigail at the upcoming county fair. Sometimes the trips we least want to take are the ones that can teach us the most about who we really are.
Rating:
NR
Genre:
, , , ,
Directed By:
Written By:
In Theaters:
On DVD:
Runtime:
Critic Reviews for Wildfire: The Arabian Heart
There are no critic reviews yet for Wildfire: The Arabian Heart. Keep checking Rotten Tomatoes for updates!
Audience Reviews for Wildfire: The Arabian Heart
Horrific. Usually I like watching movies that really suck just for the comedic value, but the atrocious acting was unbearable.
Sarah Prisbylla
Super Reviewer
Very bad acting, filming, directing, sound guy can't place mics correctly (so bad sound), and the whole movie is basically a watered down version of a good movie they copied the script from but left off the ending and possibly modified the middle where they decided to end the movie. Every actors acts like they are reading lines they were forced to memorize and just plain cannot act. If you can stand over an hour of that, then this movie might be ok (well if you like this sort of watered down copied & slightly rewrote to destroy the point & plot type films)
Jeff Baily
All the actors are bad and the filming is done by an armature who can't even do simple basics of filming the directing is even worse and don't gotta say much about the editing since there is so many scenes that could & should have been cut from this, I guess they didn't want to make it shorter than the already short movie it was, but really has stuff that adds nothing to the worthless copycat script , yes it was vaguely familiar I believe it is copycat watered down version of a good movie somewhere, though I haven't the time to look it up and find out what exact movie they copied. If you want proof the actors are bad, every single actor reads to the camera like they are doing a play they were forced to memorize (if you can't stand an hour of that, then by all means watch the movie).
William Osborne
Discussion Forum
Discuss Wildfire: The Arabian Heart on our Movie forum!