Wind River
(2017)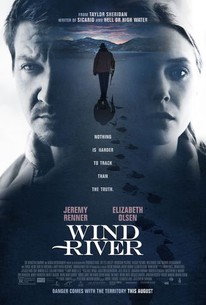 TOMATOMETER
AUDIENCE SCORE
Critic Consensus: Wind River lures viewers into a character-driven mystery with smart writing, a strong cast, and a skillfully rendered setting that delivers the bitter chill promised by its title.
Movie Info
WIND RIVER is a chilling thriller that follows a rookie FBI agent (Elizabeth Olsen) who teams up with a local game tracker with deep community ties and a haunted past (Jeremy Renner) to investigate the murder of a local girl on a remote Native American Reservation in the hopes of solving her mysterious death. Written and directed by Taylor Sheridan, WIND RIVER also stars Gil Birmingham, Jon Bernthal, Julia Jones, Kelsey Asbille, and James Jordan.
News & Interviews for Wind River
Critic Reviews for Wind River
Audience Reviews for Wind River
½
Jeremy Renner once again proves his acting chops with a skillfully subtle performance. He isn't forcing his masculinity on everything he does much like a Ben Affleck. He allows sensitivity and is all the better for it. He is never trying too hard to be cool. Wind River benefits greatly from his performance and he anchors this lightweight but bleak thriller. While the film excels in creating this remote atmosphere, the film is often bogged down in dialogue that isn't quite as sharp as it could be. Choppily edited action and a unsubtle score mean the film isn't quite as well-made as expected. Still Wind River's story will grip you and by the time it ends, you will feel grateful you don't live in the relentlessly snowy mountains. Elizabeth Olsen provides solid support, and the film brings to light the suffering of the Native Americans who dwell in the Reservation. Wind River is actually a better film than Hell or High Water Taylor Sheridan's last written film. Rating: 67
½
After Sicario and Hell or High Water we knew Taylor Sheridan could craft great scripts and in Wind River he adds the title of director as well with an eye and ear of equal aplomb. The Wyoming setting (though shot in Utah) becomes another character along with strong performances by Jeremy Renner, Gil Birmingham and Elizabeth Olsen. Easily in my top five flicks so far this year. (8-19-17)
½
A MYSTERY TO ME - My Review of WIND RIVER (2 1/2 Stars) Last year, Taylor Sheridan received a well-deserved Oscar nomination for one of my favorite films of 2016, HELL OR HIGH WATER, and before that, he wrote SICARIO, which I enjoyed but found structurally questionable and oddly lopsided in its treatment of its main female protagonist. Regardless, I couldn't wait to see what he did next. A patient writer with a classicist bent and a true sense of what makes struggling Americans tick, Sheridan has written and directed WIND RIVER , a neo-noir murder mystery set on a snowy Wyoming Native American Reservation. He previously directed a film in 2011 called VILE, but this would be his first from his own script. Despite a solid performance from Jeremy Renner and a pretty well-observed peek into a world we rarely get to see, it's a hot mess. I love a good whodunit and thought this could have been a great one. Sheridan makes other choices instead. Renner plays Cory Lambert, a game tracker who protects the local farm animals from dangerous predators. While at work one day, he stumbles upon a dead body, a young barefoot woman frozen and bloodied in the snow. Enter FBI Agent Clarice Starling Jane Banner (Elizabeth Olsen), a fish out of water from the Las Vegas bureau who relies on Lambert to interpret the evidence and hopefully catch a killer. The implication here, and it comes across slightly less offensive than it sounds, is that these White Saviors have got this one, since the local Native American law enforcement, led by a terrific Graham Greene, are out of their depth. Following the beats of a standard issue police procedural, our heroes simply follow the clues, and as such, the audience doesn't get to participate in solving the crime. We simply watch as they go from one person to the next, gathering information until they pretty much stumble upon what transpired. Anyone expecting to guess the perpetrator amongst a sea of suspects will be sorely disappointed. In all fairness and judging from Sheridan's prior films, he's more interested in the people and the setting rather than the mystery. It's here where Sheridan nails some of it. With snow often swirling around, the Reservation and its sense of isolation and boredom vividly comes through. Cinematographer Ben Richardson, who also shot BEASTS OF THE SOUTHERN WILD, does very well with the atmosphere, especially in some gorgeous master shots, but uses a handheld camera in unmotivated ways in some non-action scenes. Sheridan obviously learned how to get sweeping, swooping shots of cars driving down country roads from his time on set of HELL OR HIGH WATER, all of which look great here. Aside from Renner and Greene, Gil Birmingham (HELL OR HIGH WATER's MVP) delivers another great performance, this time as the grieving father of the murder victim. As for Olsen, it's not that she's miscast. She has an engaging, assured presence, but she's saddled with a character with literally no back story and is reduced to typical damsel-in-distress mode. As the character with the most authority in the film, this unfortunate choice stood out. Didn't you love watching Jodie Foster stalk Jame Gumb in that pitch dark basement? C'mon! Free Elizabeth Olsen! Now let's talk about the big reveal without spoiling anything. Sheridan employs an interesting and stylistically daring transition to give us, the audience, all the information we need. Guess who isn't privy to any of it? Our protagonists! They're pretty in the dark about motive, so their actions don't really carry any weight when all hell breaks loose. It's actually pretty laughable and feels like an outtake from this year's terrible FREE FIRE when a lot of guns come out. Then there's that outrageously terrible performance by a key villain towards the end. I honestly didn't know what movie I was watching. What seemed a well-meaning exploration of a community ala WINTER'S BONE or FROZEN RIVER, turned into a slapstick, foaming at the mouth grand guignol opera. Sheridan is going for a sense of poetic justice, which I appreciate, but misses the tone. WIND RIVER also suffers from over-writing. You'll know that economic deprivation, the patriarchy, and racism can affect the choices people make, because they spell it out for you over and over again. This may seem harsh, but I want to say that I think Sheridan is a fantastic talent. He knows the people he writes about and clearly cares about what ails this country. He has made and will hopefully continue to make films about real people. He understands the beauty of quiet and silence in ways similar to that of Peter Bogdanovich's THE LAST PICTURE SHOW. Despite some missed opportunities, he sticks the landing with a very moving, wonderfully understated scene between two people who understand the realities of grieving. I'm still a fan and am glad this film exists. I think he'll learn how to apply his ample talents to a genre film, and I'll still be first in line.
Glenn Gaylord
Super Reviewer
Wind River Quotes
There are no approved quotes yet for this movie.
Discussion Forum
Discuss Wind River on our Movie forum!