Wind River
(2017)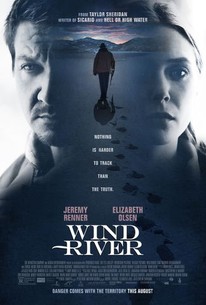 TOMATOMETER
AUDIENCE SCORE
Critic Consensus: Wind River lures viewers into a character-driven mystery with smart writing, a strong cast, and a skillfully rendered setting that delivers the bitter chill promised by its title.
Movie Info
WIND RIVER is a chilling thriller that follows a rookie FBI agent (Elizabeth Olsen) who teams up with a local game tracker with deep community ties and a haunted past (Jeremy Renner) to investigate the murder of a local girl on a remote Native American Reservation in the hopes of solving her mysterious death. Written and directed by Taylor Sheridan, WIND RIVER also stars Gil Birmingham, Jon Bernthal, Julia Jones, Kelsey Asbille, and James Jordan.
News & Interviews for Wind River
Critic Reviews for Wind River
Audience Reviews for Wind River
½
Taylor Sheridan, the incredibly talented writer of Hell or High Water and Sicario makes his directorial debut in Wind River. Most murder mysteries follow a similar formula: the body, the investigation, and the final battle. While it doesn't stray particularly far from this formula, it's Sheridan's patience and mastery of tension and mood that set it far apart from the rest. Set in the wintery hell of Wyoming, it's one of the more unique filming locations; frostbite, drugs, and depression run rampant in the predominantly Native American town. The maverick of the bunch, played by the great Jeremy Renner turns in the best performance of his career, topping The Hurt Locker. He loses himself in the character, along with almost every other actor in the film. Renner is a hunter, and protects animals and farms from the primal forces that run wild in the mountains. He stumbles upon a body of a young girl, brutally raped and murdered. He calls in an FBI agent, played by Elizabeth Olsen, and the two engage in a chase to catch whodunnit. It's a near-masterpiece of slow burning tension, all building up to one of the most disturbing scenes I've ever seen in a movie: it had me shifting in my seat and covering my eyes more than most horror movies. Following this is an unbelievably satisfying ending that had me cheering. The soundtrack, made by Nick Cave, creates a chilling and ominous atmosphere that had the hairs on the back of my neck standing up. Another huge aspect of Wind River are the heavy-handed themes, particularly grief and justice; both key aspects of what makes a murder mystery so effective. Sheridan has established himself as an incredibly talented writer and now director, and has a truly promising career ahead of him. Wind River is one of the best movies of the year, and I can't wait to see what Sheridan does next.
Kevin Mozulay
Super Reviewer
With just two finished movies attached to his resume as screenwriter, Taylor Sheridan has enjoyed immediate success. Sicario and Hell or High Water were both some of the finest films of their respective years. Sheridan has a classical sense of structure but he also pumps his big, bold Hollywood dramas with meaningful commentary and substance to communicate a systemic rot from within, whether it is the spiraling war on drugs, the rapacious banking industry, or an entire enclave of people that are ignored as an act of historical penance. When you come to a Taylor Sheridan movie, you leave feeling full on a banquet of superior screenwriting. Wind River is his next feast. A young Native American woman, Natalie (Kelsey Asbillie), is found barefoot and dead in the snow on a Wyoming reservation the size of Rhode Island. A confluence of law enforcement officers investigate while questioning who has rightful jurisdiction, the state police, the Native police, or FBI Agent Jane Banner (Elizabeth Olsen). She's frustrated that, while the coroner will confirm she was raped the night of her death, Natalie is not being dubbed a homicide because of the cause of her death. Jane seeks out the assistance of Cory Lambert (Jeremy Renner), a wildlife hunter for the Fish and Game Department who watches out for predators. He knows the land, he knows the people, he personally knows Natalie's family, and he knows the loss of a daughter. Cory agrees to help Jane discover who is responsible for the murder and seek justice and, possibly, vengeance. This is a deeply felt character-driven mystery that examines the lingering damage and defenses of a group of people often left on their own and often forgotten. Sheridan is quickly establishing himself as cinema's finest voice when it comes to a twenty-first century cowboy ideal, the taciturn, wounded man soldiering onward in an unfair world. Sheridan has a commanding sense of place and character, but his perspective rarely connotes judgment. He's more an observer, a therapeutic device for his characters to finally express themselves and their brokenness and how the world made them this way. He can be downright poetic but his instincts are for a large canvas with Hollywood thespians. He writes meaty, distinguished, and humane characters all around, not just for the leads. One of the hallmarks of Sheridan's writing is how precise and generous he can be with his stable of supporting actors. As the story develops, we see just how the death affects the small community, a community struggling to hold itself together anyway through poverty, drug abuse, and limited work opportunities (according to a 2012 New York Times feature, life expectancy on the reservation was 49 years). There is a pervading sense of hopelessness that carries over the land. The people in this movie feel real, lived in, and haunted, and the location feels exactly the same. The ending text leaves a stark reminder of this feeling like a world on our peripheral: no statistics are kept for missing Native American women. Nobody has any sense how high that figure could be. The leading man of Wind River is Renner (Arrival) but the real star is his character, a gritty and experienced wildlife hunter with an abiding reserve of unresolved issues pertaining to his own teenage daughter's murder. He has some beautiful monologues in this movie, exquisitely written by Sheridan to showcase characterization and back-story. The first is when he helps his grieving friend by sharing the routine he went through with his own personal loss, specifically how forgetting the person, and the pain of their loss, is the worst thing one can do to honor them. "Take the pain. It's the only way to keep her with you," he says. Renner delivers his best performance since 2010's The Town and it's one that asks him to slow things down. This isn't a flashy role, and even though there are some stunning monologues, it's a role that asks for more understatement. Sheridan has a clear favorite archetype but he finds ways to make each person distinct. Elisabeth Olsen's (Ingrid Goes West) character is intended as the audience entry point into the land and history, so as such she will suffer as the rookie who always seems to be out of her depth. This is exemplified by just about every assailant getting the drop on her, even after a meth head answered the door by spraying her with pepper spray. To her character's credit, other characters befell these same missteps but they aren't the next most significant character. She's an outsider trying to find her footing in delicate territory. Olsen is the one asking questions often, pushing others to explain, which usually means much of her performance is reactive, with characters uncorking those fantastic monologues. However, her best moment is during the end, when Cory is talking her through a traumatic recovery. It's so obvious that he's saying the words he always wish he could have said to his daughter, and so the psychological projection becomes too much for Jane who breaks down sobbing, serving as therapeutic vessel for empathy. It's a powerful scene and the closest thing to catharsis the movie has to offer. As such, the story is more a reflection and outlet for the characters, but it's also an intriguing mystery until Sheridan decides to just throw up his hands and explain everything. Until the third act, the central mystery of who killed Natalie is filled with curious and dangling questions that are made all the more interesting from the unique setting and circumstances. Her lungs exploded from the cold after she ran, barefoot in the snow, for six miles for help before collapsing. That's an interesting aspect I've never considered before when it comes to environmental dangers. Tracing back the events of her last night, Sheridan opens up an analysis on the precipitous lives of small-town America, except it's a Native American reservation that's sovereign from America. It's an engrossing look into a culture and way of life few ever see. It's a very unique setting that unfurls gradually over time, allowing the viewer to engage with the people, their fraying community, and the pain endured. And then the film hastily introduces its obvious culprits, shifts into an extended flashback sequence that explains everything, and zooms right into its tense climax. It all still works, don't get me wrong. You'll feel the mounting dread gnaw away at you during that flashback, and you'll feel the rush of adrenaline during the shootout, and the sense of vindication by its conclusion. However, Sheridan was doing such a fine job at parceling out his elegiac story before that it almost feels like he quickly looked at the time and decided to rush into the finish. This is also Sheridan's first time behind the camera as director and he acquits himself well enough. A distinct sense of style doesn't emerge but his directorial instincts follow his screenwriting strengths; the man knows when to get out of the way. The conclusion has a nasty snap of tension to it and the action hits its marks with power, having given quite the windup. Sheridan is best at directing his actors, who as stated above, give strong, emotive performances that linger with you. Wind River doesn't prove that Sheridan has more to offer from a directing chair, but it does provide a baseline for a start to grow. I imagine from here on, having built up a reputation for writing critically acclaimed adult thrillers that big name actors flock to, that Sheridan will be directing the majority of his favorite scripts. He might not have the visual acuity or sense of vision that a Denis Villeneuve has, but he'll reliably deliver strong performances from capable actors. He'll also be the best steward for his stories, and I need so, so many of them. Nate's Grade: A-
Nate Zoebl
Super Reviewer
When it comes to drama-heavy films, there's usually a lot left to be desired when it comes to tying up loose ends and leaving the audience completely satisfied, but Wind River is the rare occasion that accomplishes all of these aspects. As the Summer movie season draws to a close, the end of August is usually a dumping ground, but you'll also get the rare gem where they were just unsure of when to release it. Not only is this film a light at the end of the tunnel for Summer cinema, but it may just end up being one of the most impressive films to be released all year. I absolutely loved my experience with this film and it's a much deeper picture than I was expecting. Here is why Wind River demands your attention. Although the mystery surrounding this film is what happened to Natalie (the teenager found dead in the snow), Wind River is a raw human drama that is filled with clever reveals throughout. Diving deep into the past of Cory Lambert, viewers will find themselves transfixed with just how much they'll come to care about him as the film progresses. Moving the story along with the reveal of his backstory, as well as providing comfort to others, his character is needed throughout almost every scene and I was completely sucked in. Although Wind River's main objective seems to be its emotional core, the investigation alongside it is just as intriguing. Elizabeth Olsen's portrayal of Jane Banner was almost like the audience being dropped into the middle of this investigation as well. Although she is with the FBI, she becomes more of a fly on the wall throughout many of the sequences, slowly learning some of the secrets going on throughout the town. It's a very interesting investigation, but I feel as though sidelining it was the best idea they could've possibly come up with in terms of storytelling. Writer/director Taylor Sheridan definitely utilized his writing skills in the best way possible here. It helps that the cast had a great script to work with, but Jeremy Renner in particular, delivers not only the best performance of his career, but possibly award-worthy in my opinion. The character of Cory was already interesting on paper, but his delivery and devotion to this role was on another level of fantastic. Even if this movie doesn't quite suit your taste, his performance alone will probably suck you into certain scenes. Had had me on the verge of tears on multiple occasions and I feel as though I won't be the only one saying that. This is a fantastic character study all around, and Jeremy Renner was impeccably cast. In the end, Wind River delivers the whole package in terms of storytelling, pacing, and overall satisfying conclusion. Most films lose steam throughout their third act, never quite giving everyone what they want, but this is a film that ties everything up so nicely, to the point where I found myself having nothing to complain about. Aside from a few moments where the acting isn't perfect from some of the secondary cast, I think Wind River is a near-flawless film from start to finish. The imagery, screenplay, direction, performances, and overall execution are all top notch, making for a superb piece of cinema in my opinion. Wind River receives a glowing recommendation from me and it will definitely be making my list of favourites when 2017 comes to a close.
Wind River Quotes
There are no approved quotes yet for this movie.
Discussion Forum
Discuss Wind River on our Movie forum!