Wishing Stairs
(2004)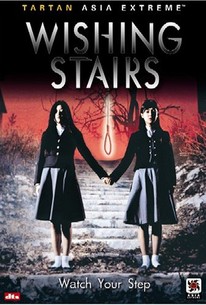 AUDIENCE SCORE
Critic Consensus: No consensus yet.
Movie Info
South Korean filmmaker Yun Jae-yeon directs the thriller Yeogo Goedam 3: Yeowoo Gyedan (Wishing Stairs), the third in a series of horrific tales set in all-girl schools (the other two being Whispering Corridors and Memento Mori). The story involves several teenage ballet students at a remote boarding school for fine arts. The staircase leading up to their dormitory has 28 stairs. Supposedly, a certain spirit will grant your wish if the 29th step appears. Wealthy and outgoing Kim So-heui (Park Han-byeol) is best friends with the more reserved Yun Jin-seong (Song Ji-hyo). Right before an important competition, someone puts glass shards into So-heui's ballet shoes and she later dies. After that, many other frightening events start to happen at the school. ~ Andrea LeVasseur, Rovi
Critic Reviews for Wishing Stairs
Audience Reviews for Wishing Stairs
Not Creepy but entertaining.
Wishing Stairs, the third in the Whispering Corridors (or Ghost School) series, is the one I had the hardest time with. Maybe I've been spoiled by the excellent three other films, but I just couldn't get into this one so much. Unlike Memento Mori or The Voice, this is more of a standard horror film and the characterization is a little weak. For example, the 'ghost' in this film becomes quite malevolent and does some questionable things because they seem so out of character given what has come before. Yoon Jae-Yeon is clearly aiming for pathos here but it feels undeserved, and the 'wishing stairs' device itself is just that. The climax is a looong time coming too; the pace here is virtually unremittingly slow, and it's another 'girl with long black hair' film complete with Ringu like odd movements. It is however, beautiful to look at and has some successful shocks. As a standalone film I may have liked it more, but in comparison to others in the series it falls short.
Daniel Parsons
Super Reviewer
think whispering corridors part ll...thought the movie was effective for its genre...jut not as strong as 'wc'..still worth a watch
Wishing Stairs Quotes
There are no approved quotes yet for this movie.