Wishmaster 3: Beyond the Gates of Hell
(2001)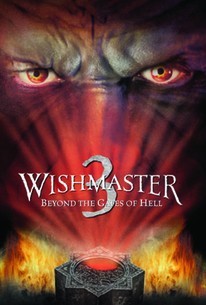 AUDIENCE SCORE
Critic Consensus: No consensus yet.
Wishmaster 3: Beyond the Gates of Hell Photos
Movie Info
The evil Djinn (John Novak) rises again in this chilling second sequel. Djinn is accidentally released when a college coed stumbles upon the tomb where he's been dormant. When she opens it, she unleashes the demon, who has plans to take over the world. Aaron Smolinski, Jason Connery, Daniella Evangelista, Louisette Geiss, Muriel Hogue.
Critic Reviews for Wishmaster 3: Beyond the Gates of Hell
All Critics (4) | Fresh (0) | Rotten (4) | DVD (3)
a stupid flick
April 9, 2008 | Rating: 0/5
...there's no real originality or distinctiveness separating it from other low-budget creepers.
The film seems to realize its need to obscure the cast and narrative early on and does so initially with some welcome nudity and plentiful, albeit amateurish, gore.
Audience Reviews for Wishmaster 3: Beyond the Gates of Hell
½
Wishmaster 3: Beyond the Gates of Hell, or "Beyond Gape Hell" if you listen to the trailer, is the most forgettable of the franchise.
Wishmaster 3 is an unnecessary third film in this dull series. Poorly written and directed, the film feels tired and uninspired. Chris Angel's directing is sloppy, and it shows on-screen. The film doesn't display anything original or refreshing and instead adopts the gore factor as a tool to try to save it from mediocrity. Unfortunately, it backfires. This film is yet another pointless sequel that doesn't work, and basically ruins what the first one tried to do. The film is stupid, and not worth your time. There's nothing makes this film interesting and worth watching, and with every other low-budget straight to DVD film, it suffers because the filmmakers don't put any effort in trying to create something watchable and ultimately memorable. This is an awful film that has no redeeming qualities whatsoever. This is simply put a needless second sequel to a film that didn't need any follow-up, especially poorly thought out films that are plainly misses the mark at delivering effective horror. This is a standard low-budget affair that relies on the standard straight to DVD formula. The filmmakers clearly don't care how the film would look. The result is a film that is a mess from start to finish, a poorly executed film, one that really doesn't deliver anything worthwhile. Avoid this third film if you can. There are far better films than this one, and this ends up just being a stupid sequel that never should have been.
½
Divoff is out and our new Djinn loses his charisma, sense of humor, and imagination. You felt as though Divoff's Djinn could come up with the weirdest deaths, these ones are pretty basic. One man asks for the two women he most desires to love him. They end up just scratching him to death. It confused me. One great opportunity has a guy say "Blow me!" We all know what our previous Djinn would have done. AT least this time the protagonist is more likable, but we don't see these films for the leading lady. It's similar, run of the mill stuff, but less gory and less fun.
Luke Baldock
Super Reviewer
Wishmaster 3: Beyond the Gates of Hell Quotes
There are no approved quotes yet for this movie.