Wishmaster 4: The Prophecy Fulfilled
(2002)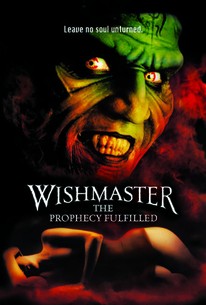 Wishmaster 4: The Prophecy Fulfilled Photos
Movie Info
Wishmaster 4: The Prophecy Fulfilled is the fourth entry in the horror film series that started with the original Wishmaster in 1997. This time, the evil Djinn (John Novak) is unwittingly released by sweethearts Lisa (Tara Spencer-Nairn) and Sam (Jason Thompson). The Djinn takes the form of Sam's lawyer Steven Verdel (Michael Trucco) in order to unleash demons, take over the world, and win Lisa's eternal love. It's up to Lisa to stop the Djinn from releasing his evil brothers from Hell.
Critic Reviews for Wishmaster 4: The Prophecy Fulfilled
Audience Reviews for Wishmaster 4: The Prophecy Fulfilled
Fourth and final entry in the Wishmaster series is a tired out and pointless film that offers nothing new to the series. This fourth film is a dull, boring film that doesn't do anything to thrill the viewer. The film is bad, with a bad cast, bad script and bad directing. This film is a mess, one that should be avoided. Fans of the first film will be disappointed with this film, as it just offers the same predictable elements that made the sequels tiresome. This film is straight to DVD garbage. No effort has been put into it to try and make it a watchable film. Everyone involved seemed they made this film just bring a quick conclusion to the Wishmaster series. There's nothing good about the film. Everything about the film is poorly done, thus this is the worst in the series. The film is not worth your time, and if you're looking for a good horror film, then this isn't it. The film feels rushed, and instead of trying to deliver a good conclusion to this series, the filmmakers do a poor job at delivering a fourth entry that is really worth your time. Watch something else, as the series has completely lost its vigor with every new entry. Luckily, this is the final entry, and is just a crap fest from start to finish. If you want my opinion, stick with the original, it was a decent flick that was entertaining for what it was, but the sequels, and this one is the worst in this series. If you're going into this film with big expectations, don't, you'll be disappointed. Die Hard fans may enjoy it, but for the casual horror fan expecting something good, you won't find it here.
½
Much better than the awful third outing. Wishmaster 4 does have a lot going for it, even though it doesn't have the means to execute all of its ideas. Wishmaster 4 sees the third wish get made, but it's a wish that causes conflict within the Djinn. A woman wishes to love him for who he is, which contradicts the whole of a wish. This is an interesting set-up and it also brings around other Djinn waiting to be released, causing even more conflict. One of the main characters happens to be a whiny cripple. One the kind that I'm sure mostly exist in films. It's an annoying character and hurts the romance stuff that's going on. The action isn't particularly well shot, which is a shame since we have some Djinn hunter and a sword fight or two. The gore is pretty nasty at times, so overall, this is the same old dumb fun.
Luke Baldock
Super Reviewer
Could have done so much more.
Anthony Valletta
Super Reviewer
Wishmaster 4: The Prophecy Fulfilled Quotes
There are no approved quotes yet for this movie.