With All Deliberate Speed: The Legacy of Brown vs. Board
(2004)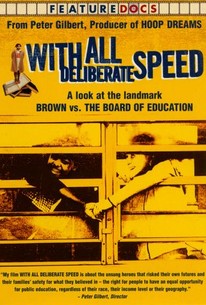 Movie Info
Directed by Hoop Dreams producer Peter Gilbert, With All Deliberate Speed is a reflection on the state of civil rights in America 50 years after the May 17, 1954, unanimous Supreme Court ruling stating that the doctrine of "separate but equal" was inconsistent with the constitution of the United States. This documentary offers a glance into the lives of the unsung heroes in the struggle for America's desegregation. A series of intimate interviews, eyewitness accounts, and unique original footage helps to illustrate the stories of the teachers, students, lawyers, and judges whose commitment would have a profound effect on African-Americans for decades to come. Among the film's participants are the late Supreme Court Justice Thurgood Marshall's son, Thurgood Marshall Jr., as well as the Reverend Joe Delaine, Barbara Johns, Vernon Jordan, and Julian Bond.
Critic Reviews for With All Deliberate Speed: The Legacy of Brown vs. Board
Audience Reviews for With All Deliberate Speed: The Legacy of Brown vs. Board
[font=Century Gothic][color=darkgreen]"Baraka" is a mesmerizing cinematic essay that takes the viewer on a tour of the world; one that is wordless but set to music. It shows the amazing diversity of cultures from rural to urban; primitive to sophisticated and everything in between. This amazing documentary is almost constantly in motion; it occasionally takes a moment to record something at rest. [/color][/font] [font=Century Gothic][color=#006400][/color][/font] [font=Century Gothic][color=navy]"With All Deliberate Speed" is a documentary made on the fiftieth anniversary of the landmark Supreme Court decision, Brown v. Board of Education which struck down the doctrine of separate but equal established in Plessy v. Ferguson(1896) and ordered the desegregation of schools 'with all deliberate speed.' It looks at the events leading up to the momentous decision and also afterwards focusing on two of the five school districts named in the suit, Clarendon County, SC and Prince Edward County, Va. Clarendon County has fared the worse of the two districts and continues to fight in the courts for suitable education.(One of the reasons a quality public education is important is possibly allowing some of its poorer citizens to escape a perpetual cycle of poverty.) I already knew most of the history involved, so I would have liked it if this documentary had focused on more of the events following the decision, especially on the battle over busing in Boston in the 1970's to show that segregated schools are not simply a phenomenon of the South.[/color][/font]
With All Deliberate Speed: The Legacy of Brown vs. Board Quotes
There are no approved quotes yet for this movie.