Witness to Murder
(1954)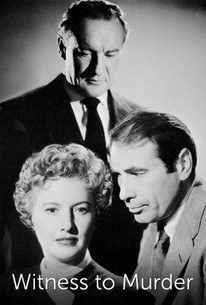 AUDIENCE SCORE
Critic Consensus: No consensus yet.
Movie Info
The witness of the title is Barbara Stanwyck, who insists she's seen a man strangling a girl in the apartment across the street. The murderer is George Sanders, an ex-Nazi with plenty of experience in covering his tracks. Deftly disposing of body and clues, Sanders is able to convince the authorities that Stanwyck is hallucinating. But Stanwyck persists, forcing Sanders to show his hand in a fateful climax. Witness to Murder is far beneath the talents of its stars, though both Stanwyck and Sanders, pros that they are, give the material the old "Academy Award" treatment.
Critic Reviews for Witness to Murder
All Critics (3) | Fresh (2) | Rotten (1)
The story is strong and well told, building tension in the final act, delivering a satisfying payoff
This threadbare little thriller looks like it was written and shot over a weekend.
The camerawork of John Alton is the star of this vehicle.
Audience Reviews for Witness to Murder
½
This could have been a great one as George Sanders delivers an excellent performance as the bad guy. He's spotted committing a murder and he then fiendishly goes about casting the witness to the crime as mentally unhinged. Problem is that Barbara Stanwyck is too strong a figure to make us believe she'd be mentally manipulated. Add to that Gary Merrill's implausible character of a disbelieving cop/love interest and this thing just doesn't work. The music score is awful, but the film noir cinematography is superb.
Aldo Gandia
Super Reviewer
½
A poor man's Hitchcock film, which lacks tension and coherence, and with many instances of questionable character motivations. On the other hand, it is nice to see a 47-year-old Barbara Stanwyck in the leading role, and there are some nice scenes in the mental hospital. It's got so many problems, though, that you're happy it's only 83 minutes long. You can certainly do better.
Antonius Block
Super Reviewer
"Witness to Murder" is another one of those Barbara Stanwyck vehicles from the 50s that isn't inspired, well-made or worth anyone's time. Stanwyck does her usual overacting and is consistently shown up by George Sanders, who is cool and relaxed in his villainous role. The film feels hastily thrown together and incomplete, which stems from an unoriginal screenplay, dull direction and haphazard editing, and it just isn't good in any aspect.
Stephen Earnest
Super Reviewer
Witness to Murder Quotes
There are no approved quotes yet for this movie.