Wives Under Suspicion
(1938)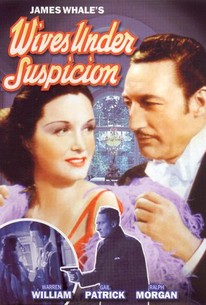 AUDIENCE SCORE
Critic Consensus: No consensus yet.
Wives Under Suspicion Photos
Movie Info
James Whale's Wives Under Suspicion is remake of Whale's own 1933 production A Kiss Before the Mirror, with a few noticeable concessions for the more militant censors of 1938. District attorney Jim Stowell (Warren William) is convinced that every murder should be sentenced to the electric chair, regardless of motive or circumstances. He remains steadfast in this belief as he prosecutes an elderly professor (Ralph Morgan) for murdering his wife in a fit of jealous rage. But while relaxing at home one evening in the company of his lovely but somewhat neglected young wife Lucy (Gail Patrick), Stowell's own jealousy is aroused by Lucy's response to the innocent attentions of young family friend Phil (William Lundigan). As the days pass, Stowell cannot suppress his own urge to kill his wife and her supposed lover. An eleventh-hour plot twist prevents him from making the same mistake as the old professor-and also gives him a new perspective on the quality of mercy.
Critic Reviews for Wives Under Suspicion
Audience Reviews for Wives Under Suspicion
A very old film with a good story line. the video quality of the copy I saw was very very poor, released by Alpha video. Not sure if the copy on Amazon Prime is any better. This story is about a lawyer who never loses a case, he is ruthless in sending a man to prison for killing his wife in a jealous rage. He bask in the glory of his win until he suspects his own wife is cheating on him, then he is driven to almost killing his wife before the facts are revealed and it changes his outlook on life. 3 stars. 6-13-12
Bruce Bruce
Super Reviewer
Wives Under Suspicion Quotes
There are no approved quotes yet for this movie.