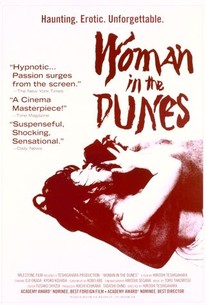 Woman in the Dunes
1964, Drama, 2h 5m
31 Reviews
5,000+ Ratings
Where to watch
Rent/buy
Rent/buy
Rate And Review
Woman in the Dunes Photos
Movie Info
Entomologist Niki Jumpei (Eiji Okada) misses the last bus home when exploring for insects in a series of sand dunes, and is persuaded by local villagers to spend the night in a house at the bottom of the sandpit. An unnamed young widow (Kyôko Kishida) lives there alone, forced by the villagers to dig the sand that they sell to nearby cities for construction. Enslaved to dig sand alongside the widow, Niki plots his escape even as he adapts to his imprisonment.
News & Interviews for Woman in the Dunes
Audience Reviews for Woman in the Dunes
Hypnotic and potent. The allegory resonates ever more strongly as time passes, and the visuals have not lost their ability to mesmerize, even if the stock and transfer show their age. Strangely, the eroticism popular critics point out in the film features very little nudity, and is instead evocative without being obvious. There is something psychological in effect as the film's couple comes together, perhaps coming down to the sparse sound and lack of excess dialogue. The dream team of Teshigahara, Abe, Segawa, and Tekemitsu should have made more films together.

If it's at all possible to know nothing about this movie before you watch it, then do so. The predicament a Japanese entomologist finds himself in will become apparent soon enough. Director Hiroshi Teshigahara and cinematographer Hiroshi Segawa do a phenomenal job of creating unforgettable images of sand through tight shots and unique camera angles, and it may make you feel hot, sticky, and somewhat claustrophobic just watching it. Eiji Okada turns in a solid performance as the entomologist, and Ky?ko Kishida is brilliant as the 'woman in the dunes' who he meets. She has accepted her fate, difficult as it is, and tries to get Okada to accept it as well. The film reflects existential, not Zen, themes, and belongs with Camus and Beckett. Life is meaningless in this pit, there is no escape, and the day to day toil is not only a struggle, but absurd and nonsensical. There is clearly a parallel being drawn to the bugs being buried in the sand as well as struggling futilely in test tubes earlier in the movie. It also reflects man's cruelty in the bugs pinned on boards to the forced labor. The scene towards the end, where the villagers look impassively down through masks and glasses with the taiko drums pounding, demanding a lewd display, is chilling. There are a couple of very raw erotic scenes between Okada and Kishida, heightened by the conditions they find themselves in, and notably occurring as one wipes the other down. In trying to free ourselves of this painful world and the grime it coats us with, if even for only moments, we turn to the embrace of another, and take comfort in carnal moments. It's beautiful and somewhat pathetic at the same time. Okada also experiences a moment of transcendence when he invents a water pump, and sees it as a higher achievement than his original goal of discovering a new species of beetle and having it named after him. There is humanity again, displaying intelligence in improving his lot, and vanity. It's a somewhat grim film, but there is solace in these things. Definitely worth watching.

Woman in the Dunes is a must-see for anyone who loves black-and-white films. The cinematography has definitely earned this film some future rewatching, for me. The other elements of the film are above par, though not the greatest; the story is compelling, though it trails off at the end. While Woman In The Dunes is like the Twilight Zone meets 1960s Japanese cinema, still it is something beyond that and warrants a high rating.

This is not your typical Japanese film. It is strange but very intriguing. I get the sense that there is a lot going on here that I am not perceiving but it doesn't scare me away from the film.
See Details