Wonder
(2017)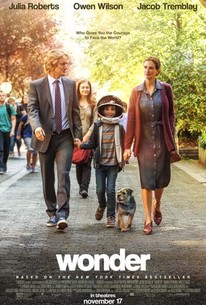 TOMATOMETER
AUDIENCE SCORE
Critic Consensus: Wonder doesn't shy away from its bestselling source material's sentiment, but this well-acted and overall winsome drama earns its tugs at the heartstrings.
Movie Info
Based on the New York Times bestseller, WONDER tells the inspiring and heartwarming story of August Pullman. Born with facial differences that, up until now, have prevented him from going to a mainstream school, Auggie becomes the most unlikely of heroes when he enters the local fifth grade. As his family, his new classmates, and the larger community all struggle to find their compassion and acceptance, Auggie's extraordinary journey will unite them all and prove you can't blend in when you were born to stand out.
News & Interviews for Wonder
Critic Reviews for Wonder
Audience Reviews for Wonder
½
I know I've said this on several occasions, but I'm never a fan of films that seem to be made specifically to make the audience cry. I bring that up because it could appear to some people that Wonder does that very thing, as the film revolves around a child born with Treacher Collins Syndrome and the various troubles that his family goes through with a world that doesn't understand the genetic disorder. Naturally a film that centers upon a child constantly being made fun of is difficult to handle emotionally. However, Wonder approaches this subject matter with a certain amount of genuineness that is undeniably endearing. So the problem I have with the films mentioned above, does not apply here at all. I'm not one of those people who go out of their way to deny when films bring them to tears and so I'm going to flat out say right now that I don't believe any film has impacted me this much and at a consistent rate than Wonder did. I can't tell you how many times I found myself clearing my eyes from the rain shower that was about to invade my sight. And I say this with so much respect and admiration to what this film was able to accomplish. Credit should most definitely be given to Stephen Chbosky's directing, adapting, and also R.J. Palacio's book the film is based on. But I was most impressed with the casting and performances of the film. After 'Room', we all knew he was in for great things, and Wonder is yet another example of the prodigy that is Jacob Tremblay's the actor (Auggie). Being the heart and soul of the movie, Tremblay gives a wonderfully poignant performance, and equally balances his innocence at 10 years old but also the inner strength he displays in not giving in to the bullies he faces. I also found the rest of the young actors they cast as his classmates to be impeccably realized. A lot of times when you have a bully(s) storyline it's difficult to portray their antics honestly. It usually feels like they are writing the bully's dialogue to service the arc of the main protagonist. In Wonder, every character of importance has depth and it's understood why the particular person would say or do whatever they were doing in those moments. Heck, there were moments where I felt bad for the bullies in Auggie Pullman's life. This also goes for Auggie's parents and sister as well played by Julia Roberts, Owen Wilson, and Izabela Vidovic respectively. It was difficult to adjust at first, because I was so attached to Auggie's story, but I really appreciated this film taking the time to round out his family and friends. The film even chooses to have particular sequences in the other character's perspectives, which brings up an interesting topic the film covers. That is, the idea of equating your problems with those of someone in a different position than you. Auggie, having a facial deformity, certainly goes through a great deal of pain as the grade and most of society doesn't view him as a normal kid. However, the film also provides other characters with their own issues like Via (his sister) not receiving any attention from her parents, Miranda's (Via's friend) parents being divorced, and Jack Will (Auggie's best friend) having to forcibly hang out with him at first. By no means are some of those issues at the same level as Auggie's, but I appreciate this story taking the time to detail the supporting characters and not just show them as people without a backstory, which is what plenty of films do. Overall, Wonder is a film I didn't expect to love so much. My only complaints, which are very minuscule to the ultimate plot, are one particular small plot decision (that I know the book also did) late in the third act which I felt was entirely unnecessary and a little bit manipulative. Aside from that, the film is perhaps 7-10 minutes too long, but there's so many things to hang your hat on that those complaints didn't matter in the long run. It's as endearing as it is earnest in its storytelling, and we need more movies like that these days. 9.4/10
Thomas Drufke
Super Reviewer
Wonder is a unique, deeply sincere film that succeeds in telling an enthralling story about kindness.
Sean Thomas
Super Reviewer
½
Sometimes we forget there is more to the movies than entertainment. Sometimes, it seems, we forget that there can be more to a story than information, simple insight, or distraction, but rather that a story can genuinely move you. I mean, truly move you to the point it inspires a change in mentality, a refreshed outlook, or even just a slight alteration in compassion. As sappy and excessively sweet as it may sound that is what Wonder does. It is a movie that has all the trappings of a melodramatic dramedy that plays on the sentimentalities of the audience in false ways and if you're a seasoned movie-goer of any kind it's easy to see why this would be pinpointed as such. The trailers and other marketing material have made Wonder look like something that ranks somewhere between a Hallmark made-for-TV movie and an after school special that serves to show children the repercussions of bullying, but walking out of the theater it is beyond evident that this movie is so much more than these dismissive descriptions would have you believe. Wonder never succumbs to the sappiness of it all, but more importantly is when it does reach for its peak emotional moments or dare to try to move the audience-it owns it completely. Wonder is a movie aware of what it is meant to do without being self-aware in the slightest. The word is humble. Wonder is a movie that defines being respectable without having to feel like it needs to announce its importance; it just is. Manipulative by nature, but unassuming and wholly modest in its execution writer/director Stephen Chbosky (The Perks of Being a Wallflower) finds the perfect balance in understanding the specifics of what his movie is intended to accomplish while making the audience wholly aware of it without flat-out exploiting their emotions. As a dad though, this thing hit me right where it was supposed to and while I understand that what is presented on screen is to a large degree a completely manufactured world where the schools are exaggerated, family time is strictly mandated, and there seems no financial concerns whatsoever these are also all things that aren't critical to the main idea and morality that the film is trying to convey and much can be forgiven when your movie promotes a simple idea like kindness this well and moves you this effectively. read the whole review at www.reviewsfromabed.com
Philip Price
Super Reviewer
Wonder Quotes
There are no approved quotes yet for this movie.
Discussion Forum
Discuss Wonder on our Movie forum!