Wondrous Oblivion
(2006)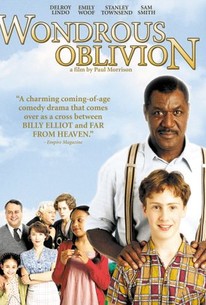 Movie Info
Eleven year old David Wiseman loves to play cricket but is no good at it. When a Jamaican family move in next door and builds a cricket net in the back garden, David is in seventh heaven. But this is 1960s England, and when the neighbors start to make life difficult for the new arrivals, David's Jewish family is caught in the middle, and he has to choose between fitting in and standing up for the new friends who have turned his world upside down.
News & Interviews for Wondrous Oblivion
Critic Reviews for Wondrous Oblivion
Audience Reviews for Wondrous Oblivion
½
The term "Coming of Age" has become somewhat of a cliché, but director Paul Morrison has given audiences such a well-crafted, beautifully-rendered tale, that an obligatory inclusion by this reviewer of the term will be quite forgiven here. Think: Air Raid Araby. It tends to be heavy-handed at times, but the spot-on performances carry the weight splendidly. In this PG-13-rated drama Wondrous Oblivion, a young Jewish boy (Sam Smith III) learns to tackle adversity in post-war 1940s England after his Jamaican neighbors teach him the game of cricket. A cross between Barry Levinson's American fable Avalon and the British hit Billy Elliot, Wondrous Oblivion wears its well-worn adversity theme like a badge...but, because the scenario is wholly original, not to point of being over-bearing. Rather, this import plays out breezily, stumbling only slightly when the story veers off into an unnecessary sub-plot featuring the boy's mother (Woof) and mentor neighbor (Lindo). Should they remain oblivious to this rub, however, moviegoers will enjoy two hours of near-wonderment. Bottom line: Wondrously told.
[font=Century Gothic]"Wondrous Oblivion" takes place in South London in 1960 where David Wiseman(Sam Smith) is the child of Jewish refugees(Emily Woof & Stanley Townsend). He attends a private school where despite his love for the sport of cricket, he cannot play a lick. One day, the Wisemans get new neighbors from Jamaica. The father(Delroy Lindo) builds a cricket pitch in his backyard to coach his daughter, Judy(Leonie Elliott), in the sport. And soon he is also coaching David, too...[/font] [font=Century Gothic]"Wondrous Oblivion" is an amiable bit of anti-nostalgia that is well-meaning to the hilt. It deftly avoids the sugarcoating that usually occurs with coming-of-age movies, in order to explore the racism and prejudice of the day, while also promoting the broadening of one's horizons. The movie is about how a society improves and diversifies itself by embracing the children of immigrants by way of the dominant culture. In the movie, this is embodied in cricket(And there is a creative use for a cricket ball in the movie.) where playing and having fun are important, not winning. [/font]
Wondrous Oblivion Quotes
There are no approved quotes yet for this movie.