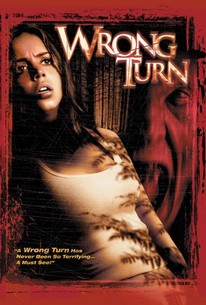 Wrong Turn
2003, Horror, 1h 24m
82 Reviews
100,000+ Ratings
What to know
Critics Consensus
An unremarkable slasher flick that fails to distinguished itself from others of its ilk. Read critic reviews
Rate And Review
Movie Info
Friends Jessie (Eliza Dushku) and Carly (Emmanuelle Chriqui) are traveling with pals Scott (Jeremy Sisto), Evan (Kevin Zegers) and Francine (Lindy Booth) when they have car trouble in West Virginia. Moments later, motorist Chris (Desmond Harrington) crashes into their disabled vehicle. Stranded, the friends discover that they're being stalked by a horde of backwoods cannibals. The woodsmen are hungry and fierce, and they'll be eating well unless Jessie and pals can outsmart them.
Rating: R (Some Language|Some Drug Use|Strong Gore|Strong Violence)

Genre: Horror

Original Language: English

Director: Rob Schmidt

Producer: Erik Feig, Robert Kulzer, Stan Winston, Brian J. Gilbert

Writer: Alan B. McElroy

Release Date (Theaters): wide

Release Date (Streaming):

Box Office (Gross USA): $15.4M

Runtime:

Distributor: 20th Century Fox

Sound Mix: Dolby Stereo, Dolby Digital, Dolby A, Surround, Dolby SR

Aspect Ratio: Flat (1.85:1)
News & Interviews for Wrong Turn
Audience Reviews for Wrong Turn
I wanted to punch each one of the actors in their faces. Nothing is original here, basically a mesh up of The Hills Have Eyes with Texas Chainsaw Massacre.

Silly film, Silly plot just not scary, It's all been done before the only good thing about it is some nice gory kills.

[img]http://images.rottentomatoes.com/images/user/icons/icon14.gif[/img] This throwback nature slasher is likely to be a love or hate piece among most horror fans. Originality is definitely not the film's strongest point and it's numerous similarities with vintage pieces like "Deliverance" and "The Hills Have Eyes" are so obvious that one might dismiss it as a stupid, lazy, ordinary, ruthless, derivative slasher flick. But Wrong Turn is none of the above apart from the latter. If completely conventional Wrong Turn nevertheless manages to get everything you'd expect and would want from a wilderness horror movie right. It fits tab A into slot B perfectly well with some fairly inventive direction, good shock horror, a fun set up and some good gore. But the bonus in all this is decent performances of characters that you actually grow to care about as it unfolds. Personally I can't remember sitting through a generic slasher without wanting somebody to die within the first 10 minutes. But it never became innocuous and remained consistently scary. It's also very up front about the films it references which makes it's underlying playfulness and utter predictability that much more fun. The defining moment of the entire film for me, was when a character said "need I remind you about a film called Deliverance". Out of all the asinine shlock that's been released in the last ten years like the empty torture porn movies that have given horror a bad name I would much rather watch Wrong Turn to remind me that there are still some good people in the horror industry today. It's gritty, scary and hugely suspenseful. Though you can see the ending from miles behind it takes you through it's acts with the enormous energy the new slashers lack and is overall entertaining. I think at bare minimum all popcorn and vomit flicks need to be as well put together as Wrong Turn. The film is far from perfect, so that's really saying something.

** out of **** As a film that includes cannibalistic hillbilly psychopaths as one of its major pleasures, "Wrong Turn" is one of those many movies that just-plain reminds you of "Deliverance" from the minute it starts to the minute it ends. I'd even say it's a knock-off of "Deliverance" all-together; but at that, it's a self-aware "Deliverance" knock-off, and we don't get many of those. Director Rob Schmidt tries his best to make the film interesting, and it has its moments, but overall, I just didn't find it to be as entertaining as I would have liked. Those who enjoy slasher films with just a touch of satire thrown in will have a blast; but those, like me, who can't stand formulaic films - for the most part -, will be bored for most of the time. This is a shame, because there was a part of me that really wanted to like the flick; it was recommended to me by a good friend of mine, and I respect those who enjoyed it. But for me, it rang almost completely hollow. I don't feel like naming the characters - because they're practically lacking in identity - and I feel as if more time went into the setting and villains, so I shall only describe those in considerable detail. The set-up for the film is that four young men and women (two per sex) are stranded in the Wes Virginia woods and happen upon a family of violent, inbred cannibals. We learn through newspaper clippings which show up in the opening credits that the area is known for such people being its only likely inhabitants. Perhaps Schmidt's greatest achievement, with this film, is his keen eye for locations. The film is well-filmed in an interesting area; I assume that the filmmaker - who made his debut with this film - spent some good time in the woods to do proper research for this film; but what he didn't do was take into consideration what makes good horror-satire so effective. His film never makes a solid attempt at crossing the line between genuine, serious horror and wicked humor. In short, it's uninteresting because it doesn't take risks; and for me, it just lacked imagination. However, if you're a gore-hound; this one is most definitely for you. The gore effects here are actually pretty impressive for the most part; in some instances, such as when a police officer gets an arrow to the face, the gore almost looks like the creation of CG effects; and if this is the case, then I can't say I admired much about the scene. I am not inspired by gore if it's made by computers; that is why I enjoy classic gore pictures such as "Zombi 2" and "The Beyond". The blood-and-gore effects are man-made. One thing that I liked about the film was the fact that, unlike so many slasher pictures, not all the characters are stupid. A lot of them are - to the point where they're even annoying - but most of the truly "bad" characters are killed off early and therefore we don't have to trudge through their collective muck. The characters that are actually somewhat well-fleshed-out are also well-portrayed; the acting is rock solid, especially for a slasher film, and there's even a small sense of devotion from both ends of the camera. Yes, the movie doesn't work, and I was never involved, but for a movie of its (sub) genre, it isn't all that bad. Otherwise, you've got yourself a decent little cannibal-vs.-man flick. I was entertained - but not for long periods of time - and I was also intrigued - just not too much. "Wrong Turn" is without a doubt better than a lot of the films similar to it; but also kind of worse than a few. I can't compare it to "Deliverance" because that's just unfair; but let's just say if you found that film lacking in depth or admiration for human nature, then you'll truly detest this one.
See Details