Wrong Turn 6: Last Resort
(2014)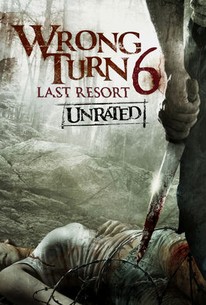 AUDIENCE SCORE
Critic Consensus: No consensus yet.
Movie Info
A sudden and mysterious inheritance brings Danny and his friends to Hobb Springs, a forgotten resort deep in the West Virginia hills. Hobb Springs is being looked after under the watchful care of Jackson and Sally, a socially and awkward couple who introduce Danny to the long lost family he's never known. Soon, Danny is forced to choose between his friends and his bloodline.
Critic Reviews for Wrong Turn 6: Last Resort
Audience Reviews for Wrong Turn 6: Last Resort
This is my first taste of any of the Wrong Turn sequels, as I watched the first one many years ago.  If the sixth installment in this vaunted franchise is any indication, then this is where my excursion with this franchise will stop. Never say never, I suppose. But this movie is pretty goddamn bad. Considering that this series is all about inbred, hillbilly killers, it shouldn't be a surprise to see every negative and ugly stereotype trotted out. It is what it is, I suppose, but it's laziness personified. No ifs, ands, or buts about that. The acting is as awful as you can imagine. At least it leads to some funny moments. I imagine that, by the fifth sequel of a direct-to-video series, filmmakers must be like 'this is a joke' and therefore they treat it as such. I don't think this was all that tongue-in-cheek, but it definitely tried. The gore is fine, but unimpressive and lacking impact. It's a little over the top, but it could've been better. At the very least, this movie is over quick and you can move on with your lives immediately. That's pretty much the only positive I can think of, it doesn't stick with you long after you finish it. It's another in a long line of endless, cheap, uninspired, and repetitive DTV horror sequels. You wouldn't be able to pick this out out of a line-up of one.
Jesse Ortega
Super Reviewer
Wrong Turn 6: Last Resort Quotes
There are no approved quotes yet for this movie.