Wu Dang
(2012)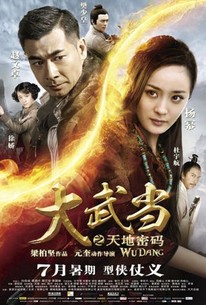 AUDIENCE SCORE
Critic Consensus: No consensus yet.
Movie Info
Upon learning that the Wu Dang Mountain may house untold treasures, a greedy American takes his martial artist daughter to Republican China to compete in a kung-fu tournament, and schemes to steal the fortune before fleeing the country. But the closer the treasure hunter gets to his prize, the further it seems to slip out of reach.
Critic Reviews for Wu Dang
There are no critic reviews yet for Wu Dang. Keep checking Rotten Tomatoes for updates!
Audience Reviews for Wu Dang
½
Not having seen a Martial Art film in awhile I checked out the obscure Wu Dang which surprisingly came out this year. There is a reason why this was an obscure title and nothing you should bother looking for either. Wu Dang "plot" follows an American conspirator taking his well-trained kung fu daughter to Wudang by sponsoring a Taoist martial arts competition, to steal the treasure in mountain of Wu Dang. The plot or whatever you want to call it is just made up on the spot. Nothing was consistent. Not a single character was engaging. No focus at all was put into this. There is literally one character that we follow throughout the movie who has no real purpose and I think this character original name was filler. The CGI in general seems more fitting for a cartoon than a serious Martial Art film. The mediocre CGI looks very ridiculous in the climax in which will have laughing when seeing a giant bubble and a glowing pill. The fight scenes and story telling segments are poorly separated resulting in long dialogue scenes and I believe around 14 boring fight scenes which despite being performed well are no fun to watch. The acting is so-so. The actors show very little commitment in making their characters engaging let-alone worth cheering for. The cast do some solid stunts and solid fight scenes, but the plot is so poorly put together that it makes the few entertaining moments this film has feel like a drag to sit through. Wu Dang has little to offer with it made on the spot plot and boring actors. Some solid fight scenes once in awhile can't makeup for the rest of the film that will likely put you to sleep.
Caesar Mendez
Super Reviewer
Patrick Leung's Wu Dang only goes so far before running out of steam.
Wu Dang does have the story fit for a martial arts period piece, but unfortunately the 100 minute plot never plays out to its potential. The introduction is fast paced and easily warrants attention, and while the first half of the film continues in that fashion, things slowly disintegrate and the picture loses what it had going for it.
The choreography for the martial arts is solid and there is a good amount of it. With that said, the action is hampered by the constant speed reduction and slow motion takes. The CG is mediocre and its high use in the final sequence is a disappointment as well.
Vincent Zhao puts on a decent enough performance. Watching Yang Mi is a pleasure, but also watching her in martial arts sequences is a dream come true. Dennis To is underutilized until the end, where his talents end up going to waste with a plethora of CG effects.
Despite its flaws, Wu Dang still gets by with its action and story.
Wu Dang Quotes
There are no approved quotes yet for this movie.
Discussion Forum
Discuss Wu Dang on our Movie forum!