X-Men
(2000)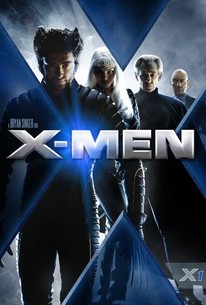 TOMATOMETER
AUDIENCE SCORE
Critic Consensus: Faithful to the comics and filled with action, X-Men brings a crowded slate of classic Marvel characters to the screen with a talented ensemble cast and surprisingly sharp narrative focus.
Movie Info
One of the most popular superhero teams in comic book history finally comes to the screen in this big-budget adaptation of the long-running Marvel Comics series. Psychic Professor Xavier (Patrick Stewart) leads a school of skilled mutants called X-Men, a peacekeeping force to safeguard the world against a race of genetically mutated humans known as Homo Sapiens Superior. However, Magneto (Ian McKellen), a mutant with a powerful magnetic charge, has also begun to organize a team to strike first against what he believes to be a threat from humanity. When he kidnaps Rogue (Anna Paquin) from the X-Men's compound, Xavier and his forces must rescue her, even as they continue to vie with Magneto for the fearsomely strong mutant battler Wolverine (Hugh Jackman). Both Xavier and Magneto also have to contend with Senator Kelly (Bruce Davison), a heartless political leader who wants a final solution against mutants on both sides. Fighting for the forces of virtue with the X-Men are Famke Janssen as Jean Grey, Halle Berry as Storm, and James Marsden as Cyclops; Rebecca Romjin-Stamos as Mystique, Ray Park as the Toad, and Tyler Mane as Sabretooth are the minions of Magneto. ~ Mark Deming, Rovi
News & Interviews for X-Men
Audience Reviews for X-Men
½
One of the first commercially successful comic book blockbusters, X-Men is a little dated, but nonetheless is an effective start to a long-standing franchise. It holds up well thanks to a good cast, solid special effects driven action, and a plot that gets expanded in future installments. While a little scaled back compared to future comic book adaptations, X-Men helped pave the way for the future of the genre and deserves credit for doing so.
Josh Lewis
Super Reviewer
½
Well this certainly feels a bit dated these days, the very first X-Men film, the backbone of the modern comicbook adaptations craze, the one that started it all. Had this film not done as well as it did then we possibly wouldn't have all the superhero flicks we have today. Heck just looking at the films poster shows how far this genre has come, its positively awful, bland and extremely unimaginative, the two groups just standing there against a city skyline, eh? I remember this coming out back in the day and I recall pretty much poo pooing it as an obvious looking lazy CGI filled cheese fest. Upon seeing the film I didn't actually like it all that much, mainly I think down to the lack of decent action. Low and behold yet again my personal tastes have changed with age and I find myself actually appreciating this film a lot more now. The plot naturally includes the origins of certain main characters and the introduction of the X-Men lead by Charles Xavier and his school for the gifted (mutants). We are also introduced to the bad mutants lead by Magneto and his dastardly plan to turn all the world leaders into mutants presumably so they know what its like to be a mutant. 'Storm? Sabretooth?...What do they call you? 'Wheels'? This is the stupidest thing I've ever heard' The general plot may be simple but I do like the easy to understand similarities with real time age old issues such as prejudice discrimination and plain racism. Magneto's (Erik Lehnsherr) family were German Jewish and killed by the Nazi's during WWII, so he had first hand experience of the effects a madman can have in power, himself being a Holocaust survivor. Ironically though Magneto himself turns into the thing he once survived and fought against as here he wants to exterminate the human race to protect the mutant race. Whilst Xavier wants to gain peace between humans and mutants Magneto is constantly trying to start a race war between them, not too subtle but hey it works. The main thing I notice with this first film in retrospect is how much dialog there is and how little kickass action there is. There is a heck of a lot of exposition to take in as we learn about the various characters and their individual flaws and powers etc...But that's not to say its boring, not at all, its actually delivered very well and you want to know more, meet more mutants and see their powers. The action is sporadic and not exactly top dollar in all honesty, we mainly see Wolverine getting into the odd scrap, mutants going up against the police but not killing any and the finale at the Statue of Liberty gives us some semi decent one on one action but the CGI and wire work is pretty hokey to be fair. Prime example being the scene where Wolverine does a 360 spin around a section of the Statue using his claw...looks real nasty. Most of the characters are really well visualised and well cast there's no denying that, twas the worry at first, that these guys would all look ridiculous in their silly costumes. But no! almost every character is realistically designed and performed. The main three of course being Stewart, McKellen and Jackman all brilliantly cast adding such a classy authentic epic feel to the comicbook tomfoolery, Jackman being the main surprise as he was completely unknown. At the same time Marsden, Berry and Janssen also come across in a surprisingly believable fashion, none of these actors ever really come across as hammy which is some feat in this. The only characters that let the side down visually has to be Toad and Sabretooth both of whom look totally daft. I'm not an X-Men fanboy so I don't know the ins and outs of the franchise but some things I do find a bit silly. For a start Toad is just a pointless character, his tongue, jumping and spitting green goo are his mutant super powers?? how is he useful? how does he crush a human by jumping on him? and why include him in this film?! The main main running quibble I have throughout has to be the invincibility thing going on. Wolverine especially is virtually unbeatable, you can't kill the guy so it seems pointless to have him fight at all, we know he can't die or get hurt. Then there's the fact that most mutants seems to be super strong...but why? OK they have unique powers but is a side effect to this automatically having super strength because they all have it apparently. How come Magneto can fly? he can manipulate metal but how does that enable him to fly? and how the hell does Rogue get through even one day without being able to touch another human? Her super mutant power seems utterly pointless and more of a curse than anything surely as she can kill real easy. In the end the film does start to crack towards the finale as things do get a tad stupid, inconsistencies with mutant power abilities, the fact no one notices all the commotion going on at the Statue of Liberty, all the destruction, Mystique doubling as the Senator but showing her yellow eyes etc...I guess the main thing that made me think was simply...Magneto is kinda right, mutants should be very weary of humans, maybe not wipe them out but you can kinda see his angle, humans are a violent dangerous unpredictable species. On the other hand I dunno why he worries so much because in any war the mutants would win hands down. The film isn't your standard comicbook flick gotta give it that, its not light-hearted silly kids stuff, there is a good solid serious tone to everything that does combine well with this material. Dealing with mutants as people who are treated differently because of their looks or abilities is a strong concept that many will relate to. Visually everything generally is quite realistic and doesn't look like a comicbook movie. The black leather outfits, big rich 'Wayne Manor-like' X-Men school, fancy super hi-tech gadgets/equipment and big black super jet are all cliched sure but obviously you need some fun fantasy elements. Despite being 14 years old this film still holds up well today and even better it still blends in with the whole X-Men franchise which has since moved on big time.
Phil Hubbs
Super Reviewer
The success of X-Men was so great that it seemed to pave the way for Spider-Man, Hulk, Batman Begins, and a slew of other successful movies based on comic books. So in a way, one could probably make an argument that director Bryan Singer is responsible for the superhero movie craze that is now the staple of the summer season. You can't deny the significance of X-Men in the evolution of blockbuster cinema. As a movie though, it unfortunately does feel like the obligatory pilot episode to a great series. It puts all the pieces into place, sets up the themes, and introduces some great characters. But the lame fight choreography, wonky dialogue, and vaguely explored social issues keep it from being a great stand alone film. It's nice to look back at a time when movies didn't resort to blowing up cities at the climax or forcing epic action sequences to entertain, but the film hasn't quite aged all that well. On the plus side, Hugh Jackman and Anna Paquin steal the show. Patrick Stewart and Ian McKellan show great chemistry. And the story sets the stage for its sequels very well.
Edward Boxler
Super Reviewer
X-Men Quotes
| | |
| --- | --- |
| Magneto: | You know this plastic prison of theirs won't hold me forever. The war is still coming Charles and I intend to fight it. By any means necessary. |
| Prof. Charles Xavier: | And I will always be there...old friend. |
| | |
| --- | --- |
| Wolverine: | Hey! it's me. |
| Cyclops: | prove it! |
| Cyclops: | Prove it! |
| Wolverine: | you're a dick. |
| Wolverine: | You're a dick. |
| Cyclops: | okay. |
| Cyclops: | Okay. |
Discussion Forum
Discuss X-Men on our Movie forum!