XXX
(2002)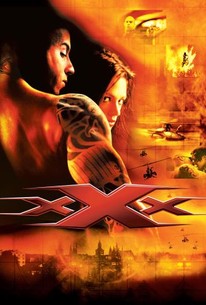 TOMATOMETER
AUDIENCE SCORE
Critic Consensus: It has an endearing lack of seriousness, and Vin Diesel has more than enough muscle for the starring role, but ultimately, XXX is a missed opportunity to breathe new life into the spy thriller genre.
XXX Videos
XXX Photos
Movie Info
Xander "XXX" Cage is a notorious underground thrill seeker who, until now, has been deemed untouchable by the law. NSA Agent Gibbons forces XXX to cooperate with the government to infiltrate an underground Russian crime ring to avoid going to prison. Betting XXX can succeed where other conventional spies have failed, Gibbons sends XXX to enter this world of crime undetected, using his natural athletic prowess and a whole lot of attitude. Enlisted for a dangerous covert mission, he must combat a clever, organized and ruthless crime enemy far beyond the scope of his experience.
Rating:
PG-13 (for violence, non-stop action sequences, sensuality, drug content and language)
Genre:
Directed By:
Written By:
In Theaters:
On DVD:
Runtime:
Studio:
Cast
Critic Reviews for XXX
All Critics (178) | Top Critics (35) | Fresh (86) | Rotten (92) | DVD (24)
If Dubya and Dick Cheney had made their very own post-9/11 patriotic propaganda movie for the teens they need as globalisation fodder, then this would be it.
Hollywood Reporter
Top Critic
The director piles on one expensive but impersonal action scene after another.

Now I know what XXX stands for:Xtremely Xcruciating Xperience.

Arizona Republic
Top Critic
Cohen ... loads the film with pow.


Ebert & Roeper
Top Critic
Audience Reviews for XXX
This is surely the easiest film to make fun of, in the Vin Diesel canon. It was the first starring vehicle for the "Fast and the Furious" alum, and there's a reason why there's only been one sequel. The dialogue is disgustingly corny, the action is ridiculous, it's super dated by its' technology choices onscreen, and its' villains are ludicrously weird and out of place. The entire film is trying to be a super-fast paced adrenaline ride, utilizing strange costuming, European metal bands in the background of every scene, and gross choices in lighting. Vin Diesel is rheumy eyed throughout, coming off as a dork that has been given the chance to live out their fantasy in an action film. There's absolutely nothing that sets this apart from other action films, except all its references to its time period. It talks about online episodes, anarchists in a politically crazed country, and its look, which is always trying to steal from bigger, better films. Watch the version with RiffTrax, otherwise you won't enjoy any part of this dull, weird mishmash.
Spencer S.
Super Reviewer
A very entertaining movie, its a typical Vin Diesel movie really and it is explosive and action packed!
Film Crazy
Super Reviewer
XXX is a stupid, poorly executed action film that doesn't have anything great going for it. I absolutely felt that this was a waste of time. Not even Rammstein's cameo could save this film. The film might've had more potential with a better script and a much better actor. However the film was terrible. The films plot is very thin and very cliché. This was a stupid a poorly made action film that has no redeeming values. The acting and story are plainly horrible. Vin Diesel shows yet again that he has no skill as an actor. This film is a poorly made action film that has nothing good going for it. The film is pretty pointless, and it's pretty sloppy in the way it was made. The film is very silly. I mean an extreme sportsman with a "fuck you" attitude becoming a government operative is too stupid to my liking. I honestly thought that this film would be good, but I was wrong. XXX is yet another bad action film, and director Rob Cohen proves that he can't direct whatsoever. XXX is one of those films that should've never been made in the first place. If you're thinking about seeing the film, don't, it's a waste of time. If you love action films, pass up on this one, there's nothing good going on in the film. Like I said the plot isn't that good, or interesting. The film is a wasted opportunity to do something good, and it fails to hit the mark on so many levels.
Discussion Forum
Discuss XXX on our Movie forum!
News & Features