XXY
(2007)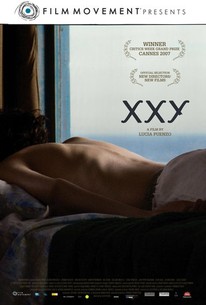 TOMATOMETER
AUDIENCE SCORE
Critic Consensus: This sharp directorial debut by Lucia Puenzo treats the challenging subject of intersexuality with intelligence and sensitivity.
Movie Info
Lucia Puenzo's drama XXY probes the psychological aftereffects that adolescent transsexuality can yield. With a name easily applicable to either gender, young teenager Alex's (Ines Efron) hermaphroditic physiology causes a massive identity crisis and severe emotional withdrawal. The problems create social problems in the family's home of Argentina and virtually force Alex and his/her sympathetic parents, Kraken (Ricardo Darín) and Suli (Valeria Bertuchelli) to move to nearby Uruguay, at a point when Alex wrestles with the throes of puberty. The situation grows increasingly complex when several friends of the family arrive: marrieds Erika (Carolina Pelereti) and Ramiro (German Palacios), a plastic surgeon, and their adolescent son, Alvaro (Martin Piroyanski), whom Alex instantly propositions for sex. As Alex battles some local punks who try unsuccessfully to rape him/her (saved at the last minute by Kraken), Alvaro finally accepts Alex's promptings for intercourse and comes to a gradual realization of his own gayness. Meanwhile, the rift between the adults and the youth widens with increasing rapidity. ~ Nathan Southern, Rovi
People Who Like this movie also like
News & Interviews for XXY
Audience Reviews for XXY
It is quite nice to see how this intimate and poignant human drama about intersexuality appropriately avoids easy answers and resolutions, being mostly subtle, delicate and silent in its approach, with outstanding performances by Ricardo Darín and Inés Efron.
Carlos Magalhães
Super Reviewer
½
What an excellent movie!! Being a teenager is hard enough without all that this poor kid had to deal with. This a well done movie, and told the story that it intended to very nicely.
Cynthia S.
Super Reviewer
XXY is a coming of age film, but with an interesting and provocative twist; the main character is a hermaphrodite. This may be shocking to some, but I found this aspect of the film, as well as that of the parallel coming of age tale of the visiting male teen, quite interesting. Unfortunately, the same can't be said about the dialog of the film (or the translation of the dialog to be specific). The film tend to dawdle, spending too much time creating atmosphere and a feeling of normalcy (like showing a family dinner with friends where absolutely nothing happens to move the story along). The story of the she/he is told well however. She (for that is how "it" is perceived) is wrestling with her identity and is considering the male aspects of her physiology. She experiments being the "dominant" with a slightly older boy - a family friend who is also struggling with his identity (he may have gay tendencies, or is just curious... the film smartly leaves that to the imagination of the viewer). Thrown into the mix are the feelings of both sets of parents - from she/he's father, who has moved the family from Argentina to a remote fishing village in Uruguay to protect her/him; and really simply wants her to decide who she wants to be and will accept that decision - to the visiting "friends" (a relationship that seems very tenuous at best). The father of the visiting boy has turned his back on his son as he believes the boy does indeed have a hankering for other boys. He is also a surgeon, and insinuates that he would be happy to take a little snip at the "daughter's" problem. If this all sounds intriguing, it is. But the pace and some of the directorial decisions seem to muck up the matter. Just as there is curiosity when she/he's secret is revealed to a friend, who makes the mistake of telling the secret to his chums, the ultimate payoff of the film seems rather flat, with all the sexual tension and confusion between the boy and "girl" reduced to an odd, "wanna see it?" question. That the boy doesn't respond (and the film shows a close-up of his face, which displays NOTHING), you wonder what the message was - man, this climax could have been handled so much better! I'd also like to mention that the synopsis presented by RT is incorrect - she/he is NOT saved from the rape by her father Kraken - she is saved by the local boy she told the secret to.
paul sandberg
Super Reviewer
XXY Quotes
There are no approved quotes yet for this movie.