Yamagata Scream (Yamagata sukurîmu)
(2009)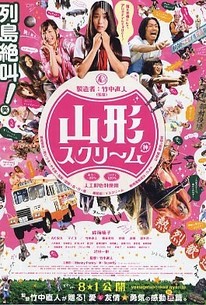 AUDIENCE SCORE
Critic Consensus: No consensus yet.
Movie Info
During the Sengoku period, fugitive warriors of the Heike clan are buried alive deep within a cave. Hundreds of years later an office worker and some female high school students arrive at the site for the world farming festival dig, only to release the now-zombified warriors.
Critic Reviews for Yamagata Scream (Yamagata sukurîmu)
There are no critic reviews yet for Yamagata Scream (Yamagata sukurîmu). Keep checking Rotten Tomatoes for updates!
Audience Reviews for Yamagata Scream (Yamagata sukurîmu)
Naoto Takenaka has done a lot of things in Japan, but he drops the ball with this horror comedy known as Yamagata Scream. The setting does take place in Yamagata and there are a lot of screams, but there isn't much of anything else to keep this 1 hour 55 minute picture that entertaining.
The concept of the story is there, but there isn't much depth to it once all the mayhem starts, which is pretty early on. Speaking of the mayhem, this is one thing that the film does pretty well, albeit it can get annoying after a while. The over the top humor and randomness of the film is what makes this a typical Japanese comedy, and it sustains this throughout the entire picture. This film just isn't for everybody.
As I previously mentioned, there isn't much to the story, which in turn makes this movie boring at times. At least there isn't much to think about.
A lot of the actors are overacting and this is expected. Naoto Takenaka casts himself as one of the lead zombies. There are also some cute girls in uniform to watch run around.
Yamagata Scream is a comedy that fails to entertain enough to be a memorable movie. It isn't at the bottom of the barrel, but it sure as heck isn't near the top.
Yamagata Scream (Yamagata sukurîmu) Quotes
There are no approved quotes yet for this movie.
Discussion Forum
Discuss Yamagata Scream (Yamagata sukurîmu) on our Movie forum!