Ying chun ge zhi Fengbo (The Fate of Lee Khan)
(1973)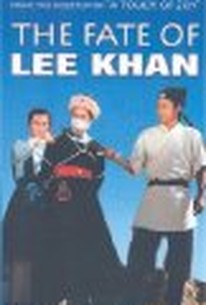 AUDIENCE SCORE
Critic Consensus: No consensus yet.
Cast
Critic Reviews for Ying chun ge zhi Fengbo (The Fate of Lee Khan)
All Critics (0) | Fresh (0) | Rotten (0)
Audience Reviews for Ying chun ge zhi Fengbo (The Fate of Lee Khan)
so much FUN!! this is part of king hu's 'inn' trilogy, also including 'come drink with me' and 'dragon gate inn'. they are connected only by their location at an isolated inn. king hu always has some ass kicking women in his films and this one features 5 or 6 of them
Stella Dallas
Super Reviewer
The 5th feature by King Hu, following "A Touch of Zen" (1969). From this film, Hu's own company starts to produce his films. It is definitely a first-class martial art and sword fighting entertainment and also an excellent spy movie setting in an inn like Hu's early masterpiece "Dragon Gate Inn" (1967). After finishing making "A Touch of Zen," since this "The Fate of Lee Khan," Hu gets his prime time. While story is based on careful research and has complicated structure, his direction is really relaxed and piquant. He handles more than 10 characters so easily like a magic trick. His skill to make tension in scenes with camera and music is like a miracle - surely the god of cinema is beside him. One thing I don't like, if I try hard to find one, is the conclusion is too straight. It is kinda hard to understand why a man with a huge power like Lee Khan had to go to the inn in person and fight to death? I think there could be one more surprising reversal in the end, like it was his double, and the map was not real or something. Well, this story is based on the true history, so it didn't work, I guess.
Naoya Kugimiya
Discussion Forum
Discuss Ying chun ge zhi Fengbo (The Fate of Lee Khan) on our Movie forum!
News & Features