Me, Too (Yo, tambien)
(2010)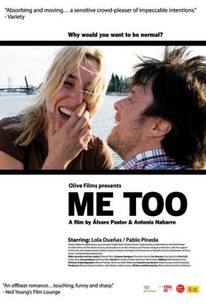 Me, Too (Yo, tambien) Photos
Movie Info
Proving everyone is equal in their need for -- and ability to feel -- love, Daniel (Pablo Pinedo), a thirty-something office worker with Down's syndrome, embarks on a romance with Laura (Lola Dueñas), a neurotic but "normal" co-worker. Despite their apparent differences, Laura is attracted to Daniel, who is the first European with Down's to graduate from a university. Álvaro Pastor and Antonio Naharro co-directed this touching, thoughtful drama.-- (C) Olive Films
Critic Reviews for Me, Too (Yo, tambien)
Audience Reviews for Me, Too (Yo, tambien)
Yo, Tambien managed to challenge people's perceptions of normality, but many will find the movie, challenging because of its subject matter. However, it was a honest look at how people with Downs Syndrome were treated, by society and by their own overprotective families.The movie maintained a sense of dignity in its treatment for the lead character.There were some subplots around another Down Syndrome couple, who wanted to experience freedom, but less successful. Actress Lola Duenas was very good in a difficult role and she gave a very emotionally performance. They developed a very strong character development, showing real chemistry between them and that was what lifted up the movie.If one did not know how quite talented Down Syndrome people are, you will realize it in this movie, and that made this movie so fabulous.
Daisy Maduro
Super Reviewer
½
A surprisingly mature drama about a 32 year old man with Down Syndrome who has lived life as a "normal" person, graduating with two advanced degrees and taking on an office job. But things get complicated when he falls in love with a co-worker, and the two strike up an unlikely friendship as the film explores the difficulties and inner conflicts of integrating into every day society and leading a normal life withDown Syndrome. Thankfully voids schmaltz an manipulative cliches and for the most part approaches its subject with intelligence and grace.
Matthew Lucas
Super Reviewer
Me, Too (Yo, tambien) Quotes
There are no approved quotes yet for this movie.