You Are Alone
(2005)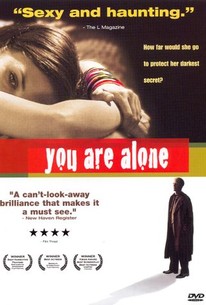 AUDIENCE SCORE
Critic Consensus: No consensus yet.
Movie Info
A broken middle-aged man and an embittered high school escort enter into an agreement that will help both to ward-off loneliness if only for an hour in director Gorman Bechard's terse psychological drama. Daphne is a Yale-bound eighteen-year old whose depression has driven her to sell her body to the highest-paying stranger. She advertises her services online and views her service as an act of rebellion against a corrupt society. When Daphne's neighbor sees her performing at his nephew's bachelor party and threatens to make her hidden life a public affair, the skeptical escort reluctantly agrees to spend an hour with her blackmailer under the agreement that she will do any and everything that he commands. As the pair come together for their clandestine rendezvous, confrontation gives way to conversation as the bitter layers of disappointment and cynicism are peeled away in a revealing conversation about sex and desire. Ironically, as the needs and heartbreak of the troubled teen begin to paint a bleak portrait of desperation her neighbor does everything imaginable to test the limits of her advertised promise to fulfill even the most extreme and depraved sexual fantasies.
Cast
Critic Reviews for You Are Alone
Audience Reviews for You Are Alone
½
A deceptively good film that explores loneliness, depression, and sexuality in a tense encounter in a seedy hotel room between a high school girl who fulfills men's fantasies for money and her next-door neighbor who discovered her secret. A thoughtful, talkative script drove the film, while the images and attitudes expressed kept the viewer just slightly off-balance. The ending was particularly gut-wrenching and engendered a great deal of sympathy for both of these damaged souls. The hand-held camera work was at times a bit disconcerting but otherwise kept the viewer focused on that hotel room and the two people who bare their souls to one another. The film mainly consists of the dialog between the two principles with flashbacks showing how they ended up here. Miss Bohl has not gotten much work since filming this, and this viewer finds that disappointing, as she was very good in this, and real easy on the eyes. This one was a very pleasant surprise. The film is nowhere near as lurid as the description makes it sound. There is nudity, but it was handled tastefully and never felt gratuitous or out of place.
Mark Abell
Super Reviewer
You Are Alone Quotes
There are no approved quotes yet for this movie.