Tinimbang ka ngunit kulang (You Are Weighed in the Balance But Are Found Wanting)
(1974)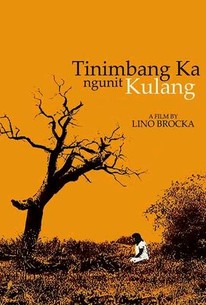 AUDIENCE SCORE
Critic Consensus: No consensus yet.
Tinimbang ka ngunit kulang (You Are Weighed in the Balance But Are Found Wanting) Photos
Movie Info
This Filipino film is in the Tagalog dialect of that country. The story concerns the coming-of-age of a young boy and his discovery of sexual love. His entirely natural activities are endangered by his town's gossiping busybodies. ~ Clarke Fountain, Rovi
Critic Reviews for Tinimbang ka ngunit kulang (You Are Weighed in the Balance But Are Found Wanting)
There are no critic reviews yet for Tinimbang ka ngunit kulang (You Are Weighed in the Balance But Are Found Wanting). Keep checking Rotten Tomatoes for updates!
Audience Reviews for Tinimbang ka ngunit kulang (You Are Weighed in the Balance But Are Found Wanting)
Living in the modern Filipino film culture, one can't easily delve oneself deeper into it without even hearing about the film "Tinimbang Ka Ngunit Kulang" and marvel about how heavily metaphoric the title really is. And then, with an unconscious compulsion, you then become curious. What is the film really all about? I, for one, initially thought that this film, although undoubtedly one of the finer Filipino films, isn't clearly one of the all-time greats. That's me and my unflinching idiocy. I then rewatched it with the aforementioned question rerunning in my mind, and then some. And just like that, I was in utter awe. "Tinimbang Ka Ngunit Kulang" may widely be considered as Lino Brocka's seminal masterpiece, but somewhere within the corners of my mind where "Maynila: Sa Mga Kuko ng Liwanag", "Bona" and this film are on a continual struggle for subjective supremacy, it might just be his best work. Contrary to Brocka's trademark ambient sounds-enhanced, raw visuals-enforced neorealisitic approach to contemporary Filipino squalor that has been ever prevalent in his later films such as "Insiang", "Tinimbang Ka Ngunit Kulang" boasts of a powerful human drama set within the hypocritical social and religious milieu of a seemingly quiet rural town. Part coming-of-age film and part cinematic indignation of inhuman judgments, the film succeeded to disturb, touch and shake viewers all at the same time with its potent ability to deliver both an encompassing social commentary and an observant exploration of an adolescent's moral journey from debilitating indifference to something mirroring righteous courage and humanity. The teenager, named Junior, played by then-rookie actor Christopher De Leon (who won a FAMAS for his performance in the film) who surprisingly handled the role like a seasoned veteran, is caught at an early crossroad; in this existential standstill, he can't seem to find his own path. Should he follow his father's successful yet women's perfume-laden path (a serial womanizer, that is)? Must he pursue a romantic, but ultimately hollow and immature commitment, or does he have the fiber to embrace the lives of two sideshow social outcasts whose deeply felt relationship overpowers their physical and mental shortcomings? In some ways, just as how Brocka applied it to his later film "Jaguar", "Tinimbang Ka Ngunit Kulang" is a film that deals with crucial choices. Even with the dream-like opening sequence alone which, in a very hallucinatory way, portrayed the emotional nightmare of an abortion, both in its procedure, the aftermath (this powerful scene prophetically answers some of the questions that were raised in the 1985 film "Hinugot sa Langit) and the psychological effect once the choice regarding it was finally made, though in the film's case, a one-sided one at that (Lolita Rodriguez's Kuala seems unwilling). Today, mentioning the name Lolita Rodriguez is like unveiling a dignified marble statue of a true Filipino cinematic icon, and for that kind of automatic pop culture thinking, suffice it to say that it was duly in part of her legendary performance in this film as the town lunatic, Kuala. It's one of the best performances in all of Filipino cinema, and her detailed conveyance of staggering facial expressions and uncanny gestures brilliantly merged and crisscrossed both the overly animated movements of a dirty mental case and the uncommon emotional depths of a woman who just suffered too much and is begging, by way of her soul creeping silently through her eyes, for all of it to end. Mario O'Hara's role as Berto the leper is just as tricky to pull off. Listening to some of his lines, the character may easily drift into one-dimensional nobility, but O'Hara kept it all together quite consistently and has able to display the visceral goodness of a man who has nothing left to lose but just enough time to love. Eddie Garcia also shined in his role as Junior's father, Cesar, a role he so conveniently and effortlessly played that the very polygamous core of the said character has since been iterated quite heftily in his action film roles (the 'Manoy' persona). One of Brocka's real, unequaled strengths is his great execution of endings. The one here in "Tinimbang Ka Ngunit Kulang" is a great example. Playing with the facial expressions of both the extras and the chief actors while still maintaining the emotional strain of the ending's dramatic center, the film, although can easily be branded as a communal tragedy, is still hopeful despite of its wounded premises. And as Junior emerges from Kuala and Berto's hut, carrying a symbolic purity that is a product of two individuals that were subjected to inhumanity, there's a feeling of solitary safety, and at last an emphasis, as Junior looks upon the people's guilty faces, of what was really weighed and found terribly wanting: the town itself.
Ivan Descartin
Super Reviewer
Tinimbang ka ngunit kulang (You Are Weighed in the Balance But Are Found Wanting) Quotes
There are no approved quotes yet for this movie.