You're Gonna Miss Me
(2007)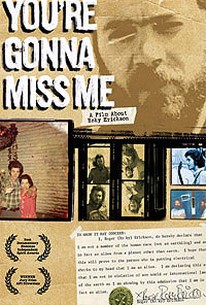 You're Gonna Miss Me Photos
Movie Info
Texan band The 13th Floor Elevators coined the term psychedelic rock and were responsible for some of the garage era's most precious nuggets. With his visionary lyrics, their charismatic singer Roky Erickson was poised to be a huge star, but as his fame grew, so did his notoriety, and his drug intake and public declarations about the benefits of marijuana and LSD bought him to the attention of the local police. Arrested for the possession of a single joint in 1969, Erickson pleaded insanity to avoid a prison term, and spent the next three and a half years in the State institute for the criminally insane, diagnosed as schizophrenic and subjected to electro-shock treatment. Though he would go on to release dark, influential albums up until the mid-90s, he never fully recovered. The film sees Roky, surrounded by televisions and hi-fi equipment, cloaking himself with sound, while being looked after by his doting, overprotective mother, whose well intentioned refusal to allow Roky prescribed medication and psychiatric advice is questioned by his younger brother Sumner, who takes his mother to court to challenge her guardianship.
News & Interviews for You're Gonna Miss Me
Critic Reviews for You're Gonna Miss Me
Audience Reviews for You're Gonna Miss Me
A fascinating doc about Roky Erickson, the singer for '13th floor elevators'. Very similar to the doc 'Devil in Daniel Johnston' and just as good.
½
Was it the drug usage that transformed him from a rock pioneer into an incoherent burnout, or was it the preexisting schizophrenia? Was it the treatments that he received in the hospitals, or was it simply the fact that he was locked up in these hospitals? These questions really can't be answered, and the documentary does not attempt to do so. What it does do is present the man's life story from the beginning of his musical career up until the present leaving it up to the viewer to come to his or her own conclusions about this tragic turn of events.
El Hombre Invisible
Super Reviewer
You're Gonna Miss Me Quotes
There are no approved quotes yet for this movie.