Youth of the Beast (The Brute) (Yajû no seishun)
(1963)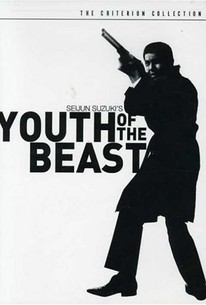 Youth of the Beast (The Brute) (Yajû no seishun) Photos
Movie Info
Youth of the Beast marked a turning point in director Seijun Suzuki's career. No longer content to just crank out production-line gangster films, here Suzuki starts to assert his own voice. The plot is fairly typical for the genre: chipmunk-cheeked Jo Shishido stars as ex-cop Jo Mizuno, who muscles his way into the shadowy world of the yakuza. He gets hired by the clan that killed his former partner while double-dealing with the clan's rival. Yet the plot contains some particularly Suzuki-like details. Why is Jo's partner more interested in guns than in women? Why does Hide, the notorious gay gangster, always slash the face of anyone who mentions his mother? What does this all have to do with the Takeshita School of Knitting? Suzuki's audacious style heightens the absurdity and artifice of both the genre and the medium with pop-art colors, loopy camera placements, and bizarre, dream-like images: A feather-clad dancer silently struts behind sound-proofed two-way mirrors, a pink dust storm serendipitously occurs while a pimp whips a junkie prostitute. The film is a dizzying visual feast whose tone Seijun Suzuki would amplify to the most absurd heights in his later films, Tokyo Drifter (1966) and Branded to Kill (1967). ~ Jonathan Crow, Rovi
Critic Reviews for Youth of the Beast (The Brute) (Yajû no seishun)
Audience Reviews for Youth of the Beast (The Brute) (Yajû no seishun)
terrific early gangster film from maverick director seijun suzuki just oozes style from every frame. unlike his later more abstract works like branded to kill and tokyo drifter, it has a comprehensible plot to go with his trademark stunning imagery, brilliant color schemes and creative framing. the storyline is classic noir; an ex-cop investigates the death of his partner with a twist around every corner. we've seen it before but never like this! i've been bored with films lately but this was just what the doctor ordered
Stella Dallas
Super Reviewer
½
Pretty awesome Japanese 60's pulp noir gangster flick. It's a little hard to follow, but great to look at.

Inspired by Yojimbo
Ken Stachnik
Super Reviewer
½
a fairly incoherent story and confusing shot sequences along with sub-par acting almost tanked this film for me, but it was balanced by an emphasis on style and plot intrigue. this re-imaging of the yojimbo plotline was a far cry from the original, and despite being taken from yojimbo it actually reminded me more of scorsese's "mean streets" as a heralded film that fell empty for me. an average film, but if youre a fan of suzuki there is no reason to avoid it.
Youth of the Beast (The Brute) (Yajû no seishun) Quotes
There are no approved quotes yet for this movie.