Zatoichi and the Doomed Man
(1965)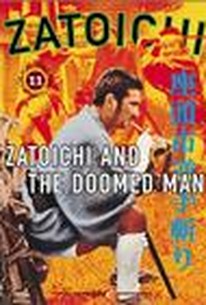 AUDIENCE SCORE
Critic Consensus: No consensus yet.
Movie Info
When the blind swordsman Zatoichi (Shintaro Katsu) is thrown into jail in a gambling raid, he encounters a man who has been sentenced to death for a crime of which he isn't guilty. The blind warrior tries to help him upon his release. Following the trail to the guilty party, he crosses paths with the son of the man he is assisting, who is impersonating Zatoichi. The search for the truth eventually leads the blind swordsman to an encounter with a gun-wielding assassin. ~ Bruce Eder, Rovi
Critic Reviews for Zatoichi and the Doomed Man
All Critics (3) | Fresh (3) | Rotten (0) | DVD (2)
While I'll still take a mediocre ZATOICHI movie over a crappy Hollywood film of the present day, this one leaves the viewer with a sense of unfinished business
Audience Reviews for Zatoichi and the Doomed Man
Another great Ichi film and one that saves up it's action and stunningly choreographed battles for the final half of the film. The story is built up and quickly turns to countless bodies falling and Zatoichi laying waste to anyone who opposes him. This is the second shortest Ichi film as it runs at a fast paced and frantic 77 minutes, but man does it pack in the kills in the last half!
Chris Browning
Super Reviewer
½
Once again our favourite blind swordfighter is sucked into a dangerous plot. He is asked by a man sentenced to death, to go to the two men that can clear his name. After that it becomes the first Zatoichi "buddy" flick, as he teams up with a comic relief conman. That's right, such formulas were being used over 40 years ago. The comedy is more broad in this outing but never overshadows the production. A few slight changes occur, such as Zatoichi's gambling not being focused around a dice game. This time it's archery and makes him an even more impressive character. It also shows Zatoichi's more reluctant side, as he debates whether to help the man or not. After 10 films even he has started to realise that he always gets involved in deadly situations. The final fight is great, because the villains also realise just how skilled Zatoichi is. Now they are resorting to spears and nets and ropes in an attempt to bring the man down. It's almost a very subtle postmodern Zatoichi film. It's still very predictable, from the narrative and pacing to the events that occur. These slight changes are enough to keep me involved for now. But there's still another 15 films in this series.
Luke Baldock
Super Reviewer
Attempts to break out of the formula, and succeeds.
Anthony Valletta
Super Reviewer
Zatoichi and the Doomed Man Quotes
There are no approved quotes yet for this movie.