Zero Day
(2003)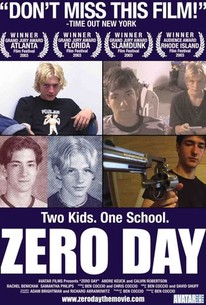 Movie Info
American independent filmmaker Benjamin Coccio makes his writing and directing debut with the pseudo-documentary drama Zero Day. In keeping with the filmmaking logic of the The Blair Witch Project, the film employs handheld cameras as the subjects record their own video diary of the events. Andre Kriegman (Andre Keuck) and Calvin Gabriel (Calvin Robertson) are students at Iroquois High School. The film follows their year-long planning process to violently assault the school on May 1, 2001, given the code word "zero day." In a matter of 15 minutes, Andre and Cal killed 11 students and wounded several others before taking their own lives. Zero Day made a successful festival run, winning the Grand Jury Prize at the Slamdunk Film Festival.
People Who Like this movie also like
Critic Reviews for Zero Day
Audience Reviews for Zero Day
Generally speaking, I hate films that are shot on camcorder, but they do make things more realistic. This was a necessity for the film, Zero Day, which gives an in depth look at the psyche of two school shooters. The story isn't unexpected or anything you haven't seen before, but what makes this film unique is how the producers went about casting this film. The entire cast is made up of ordinary kids, with no previous acting experience, to that end, the entire immediate family of the shooters are also used in the film. Given that these kids weren't actors at the time, a lot of scenes also remain unscripted. The kids were told to just talk about things that make being a teenager tough, expressing dark, innermost feelings of rage and hatred of society. It was then that the writers wrote dialogue that corresponded with what these kids were saying. The result of this is one of the most realistic films I've ever seen. It was like actually being able to watch the video diaries of the Columbine shooters, expressing their feelings, and explaining their actions, prior to that tragic day. Both boys featured in the film are terrific and the way the Director just let the story flow, based on what these two kids had to say, was absolutely ingenious. I think this film was an amazing insight into the minds of troubled teenagers and I think it's a must see for anyone in the field of education.
Todd Smith
Super Reviewer
½
Andre: Ready? Calvin: Aim... While Zero Day isn't a pleasant film, it is a very well made film. It's extremely realistic in every way and is based off of the Columbine shootings. The two kids Andre and Cal are troubled and finally break and devise a plan that they call Zero Day. The two actors, Andre Keuck and Calvin Robertson are very believable in their roles. The buildup to Zero Day is made with patience and is as important as the events at the end. We learn how they will execute their plan, we see them around their parents, and we see how they interact with each other. They talk like they are in the military; even calling themselves The Army of Two and saying everything they do is a mission. The ending is incredibly well-done and ultra-realistic. It's shocking, chilling, haunting, and disturbing. This kind of stuff has happened before and the way the filmmaker tackled the ending was respectful. He didn't show too much, but just enough. This movie really does deserve to be taken seriously and to be seen by more people.
Melvin White
Super Reviewer
Shockingly, ultra realistic take on the Columbine-like shootings. A harrowing, raw and frightening experience. This is a must see!
jd cryptic
Super Reviewer
Zero Day Quotes
There are no approved quotes yet for this movie.