Zero Motivation
(2014)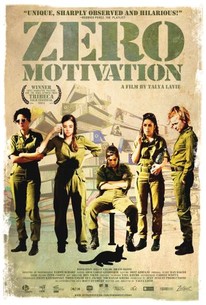 TOMATOMETER
AUDIENCE SCORE
Critic Consensus: Darkly funny and understatedly absurd, Zero Motivation is a refreshing addition to the canon of irreverent war comedies -- and an intriguing calling card for writer-director Talya Lavie.
Movie Info
PRIVATE BENJAMIN meets M*A*S*H, speaks Hebrew, and keeps kosher. Set in a remote desert military base, a platoon of young women soldiers, all Israeli conscripts, serve out their time playing computer games, singing pop songs, and conspiring to get transferred to Tel Aviv -- while endlessly serving coffee to the men who run the show. Here's an Israeli film filled with funny, quick-witted, zany women who wield their staple guns like automatic weaponry. If there is a war going on, it's one against boredom, bad uniforms, dopey rules, and doing everything in triplicate. Debut filmmaker Talya Lavie is Israel's answer to Lena Dunham: ZERO MOTIVATION has had rave reviews and huge audiences. Winner of the top prize for narrative world cinema at the Tribeca Film Festival. (C) Zeitgeist
People Who Like this movie also like
News & Interviews for Zero Motivation
Critic Reviews for Zero Motivation
Audience Reviews for Zero Motivation
½
Been three days since my last review. Essentially, here's the deal, not that it matters in the long run, I watched a film that I stopped watching halfway through because I was tired. Then after that I watched a film, that I did finish, but it turns out that the film isn't available to review on this site. It's a film that's called Cross, it's on Netflix, but it was a terrible movie. I'm unhappy that it isn't available to review on here, because it was gonna be one of those therapeutic reviews. But, I digress, that's the reason there's been no reviews for 3 days now. It's also probable that I may not even really have much to say about this film, hence why I'm explaining all of this. With all that out of the way, I really, really enjoyed this movie. Talk about an apropos title for a film, particularly when you're talking about the Zohar character. What I like about the film is that it gives off the appearance that nothing is really happening in this remote military base, but it's anything but. While the film is, partly, about the boredom of being in a pretty uneventful division at this base, and trying to find something, anything, to break that boredom, I do also think that the film is actually very meticulously scripted. I don't think it's just a series of 'skits', again, despite giving off that appearance, every action in this film has a reaction. There's no filler whatsoever as it relates to this film, nothing where I went 'eh, they could've cut this or that' because it's all relevant to the film and where the narrative is heading. Daffi heading off to train to be an officer has relevance in how Zohar's behavior plays out throughout the rest of the film. Essentially, Zohar is undermining Rama, her supervisor, pretty much at every turn. Lacking discipline, Zohar is pretty much looking out for herself regardless of the trouble that may get others in. But her increasing 'sabotage', perhaps a strong word, and misbehavior also has relevance in how the film plays out. It's not like it's being done just for the sake of it. It, pretty much, forces Rama out of the military after her 2 years are up, even though she wanted to stay on and do great things in the military, and opens the door up for Daffi's return, even though she wanted to be stationed in Tel Aviv. It's real impressive how tightly scripted the film really is. Nothing is wasted, even though the characters themselves, for the most part, are wasting their time. The acting is top-notch. Dana Ivgy as Zohar is pretty excellent and she perfectly encapsulates that rebellious spirit that wouldn't ever mix with a more uptight and self-serious military system, but that's what makes her character so interesting. How she interacts with those above her and how many fucks she clearly does not give. I think the movie really starts clicking once Daffi comes back. And that's the climax and it's where you start to put two and two together and how this thing led to that thing and so on and so forth. There's a pathetic, in a funny way, staple gun fight between Daffi and Zohar that's real entertaining because it's played fairly seriously. Some people might not like that the fact that this isn't a conventionally funny film, or a fast-paced one, but it's a really damn good war comedy. It's just really well-made and written. The acting form the women is also top-notch. I wouldn't say it's a great movie, but, honestly, it's not really that far off. I'd definitely recommend it, but it's not gonna be everyone's cup of tea, for sure.
Jesse Ortega
Super Reviewer
First, Daffi(Nelly Tagar), Paper and Shredding NCO, makes her friend Zohar(Dana Ivgy) late for the bus back to base. Then, Daffi almost has to be carried inside the gates, so depressed is she. Almost immediately, her spirits are lifted immensely when she meets Tehila(Yonit Tobi), a new woman to the army base who she assumes will be her replacement. Even more importantly, but only to Daffi, is that this means her transfer to Tel Aviv has been approved. On the surface, "Zero Motivation" is about women in the Israeli military, and how they are marginalized there in boring office work.(Speaking of which, seeing the characters play Minesweeper brought back so many memories, even though my game of choice was Mah Jongg.) At the same time, this well-written movie is also about the bonds of female friendship, as depicted here with grace, empathy and humor, with these characters having been brought together from all over(Daffi is from Haifa, Zohar lived on a Kibbutz and Irena(Tamara Klingon) is from Russia).
Zero Motivation Quotes
There are no approved quotes yet for this movie.