Zibahkhana (Hell's Ground)
(2007)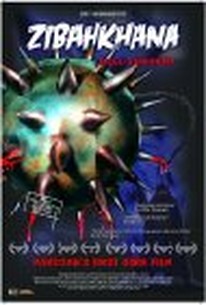 Movie Info
Director Omar Ali Khan teams with Mondo Macabro to create Pakistan's first splatter flick, a demented tale of terror pitting a group of stranded teens against a horde of hungry zombies, a shrieking hitchhiker, and a burqa-clad killer armed with a gore-drenched mace. They were on the road to adventure when their van ran out of gas. Now, as a desperate group of teens attempt to navigate their way out of a darkened forest, the earth cracks open to reveal an army of cannibalistic corpses. As if brain-eating zombies weren't enough to contend with, there's also a banshee-like hitchhiker stalking the teens at every turn. But this nightmare has only begun, because when a menacing figure in a bloody burqa appears wielding a medieval weapon, any hope for survival seems as far off as the morning sun. ~ Jason Buchanan, Rovi
Critic Reviews for Zibahkhana (Hell's Ground)
Audience Reviews for Zibahkhana (Hell's Ground)
½
Convoluted is one way to put it. It's starts with zombies and ends with a Texas Chain Saw Massacre type slasher... what? But I still really liked the film. It's shot and constructed like a film from the 70s and you can clearly see the TCSM and Evil Dead influences, but I mean who doesn't copy now-adays. What saved this film from dreck was that it harkened back to a magical time for horror, was much more exotic local than most horrors, and the soundtrack fucking kicked ass. Un-original...fuck it. Keep kicking it out Khan.
Patrick Dolan
Super Reviewer
½
The first film from Pakistan plays out like a homage to few classic horror films.Is a slasher film with few zombies in it & a family of maniacs that lives in the woods.For the budget that the film was working with,it was a good attempt from this first time director.So we have teenagers with tickets to a concert that takes a wrong turn & find themselves lost & then a crazy hitchhiker gets in their van.What comes to mind is Texas chainsaw massacre.I really was looking forward to a zombie mayhem & originality with the death scenes,besides nothing original about the plot.The film manages to deliver few gory scenes,creepy atmosphere at times & it has the grainy look of a film from the 70's or early 80's which works fine for the film.This director have potential to come up with something better than this film,with a better script & to be more original.
Finally got to see my most anticipated film, and boy was I not disappointed. Tombs and Khan create a fun film that harkens back to American horror of yore, and yet portrays Pakistan perfectly. The atmosphere in this one is what makes it a film I will be returning to again and again. I don't know why I find trash and exploitation movies from overseas more educational in cultural climates and environment than art films (perhaps because they are more entertaining), but it really was great seeing an exploitation film set in Pakistan. The story is convoluted and at times doesn't make sense, but that adds to the bizarreness of this one. Highly recommended, though I might be a little biased because of my love for Mondo Macabro... but probably not since films like this are the reason I love them.
Christopher Brown
Super Reviewer
Zibahkhana (Hell's Ground) Quotes
There are no approved quotes yet for this movie.