Dracula's Dog
(1981)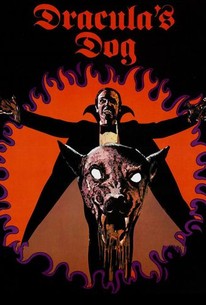 Movie Info
A canine variation on the vampire legend. Michael Pataki, Reggie Nalder, Jose Ferrer, Jan Shutan. Linda: Libbie Chase. Steve: John Levin. Mrs. Parks: Cleo Harrington.
Rating:
R
Genre:
,
Directed By:
In Theaters:
On DVD:
Runtime:
Studio:
Vic Productions
Critic Reviews for Dracula's Dog
Audience Reviews for Dracula's Dog
LOL hilarious! in 1978 Dracula movies were definitely running out of ideas until someone came up with this wacky premise: Dracula, pissed off that a dog came to the rescue of a woman sleeping, turns the dog into a vampire with obvious false fangs and glowing eyes! If that premise sounds stupid here is the rest, the tomb of the dog Zoltan(yes, tomb folks)is open by the Russian army in Romania the dog comes to life along with his master(Reggie Nalder)to locate the last of Dracula decendents to keep the bloodline going. This sounds like your watching a skit on MadTV but your not. Nalder tracks down the family on a camping trip. Zoltan turns several dogs into vampires including a puppy! With this grade Z material is given some class with the casting of Jose Ferrer and Michael Pataki. The director gives way too many closeups of Nalder's craggy face. The cinematography and especially the musical score is good. There are many goofy scenes to pick out and the ending comes to no surprise to anyone watching this. Have lots of liquor on hand to watch this film.
Orlando Diaz
what did you expect its low budget it has no point to it I mean look at the title it's called dracula's dog I mean it is not very one of the worst vampires films ever made no dialogue just no anything just film just to make money this film starts bad just the whole film is awful I mean I like horror films it is just why this horror film I mean of course I feels a little bit grindhouse style but this is just as horrible as my pet getting rabbies I mean why a vampire dog I mean they could have named it dracula's bat not dracula's dog I mean this is not creepy at all very stupid very cheap.
Max Moser
this was the very first horror movie i owned on tape. it's sooo bad...and not necesarily in a good way.!
Chris Doan
Dracula's Dog Quotes
There are no approved quotes yet for this movie.