Day 2: 12:00 PM-1:00 PM
EPISODE: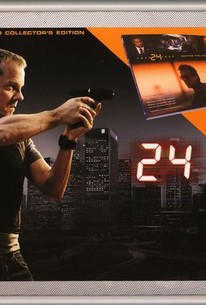 Episode Info
CTU is in shambles, with parts of the building cordoned off because they might collapse. Tony (Carlos Bernard) tells Mason (Xander Berkeley) he's leaving to investigate a lead -- a local businessman who's had contact with known terrorists. Tony goes to the Warner house to interrogate Reza (Phillip Rhys). Bob (John Terry) and Kate (Sarah Wynter) try to keep Marie (Laura Harris) from finding out about the investigation going on in the house on her wedding day, while an indignant Reza denies any knowledge of Syed Ali. When Marie learns that Kate hired a private investigator to look into Reza's background, she explodes and tells Kate to leave. Jack (Kiefer Sutherland) calls Mason to let him know that Nina (Sarah Clarke) was the source of the terrorists' information. She's being transferred to CTU for interrogation, and Mason is determined to keep Jack, who's returning to CTU for a debriefing, away from her. Nina is brought in, and offers to give up everything she knows in exchange for a full presidential pardon. Jack realizes that Mason has radiation sickness, and uses the information to coerce Mason into letting him handle Nina's interrogation. Gary (Billy Burke) finds Kim (Elisha Cuthbert) at the hospital, and warns her to leave or he'll have her arrested for kidnapping. She calls her boyfriend, Miguel (Innis Casey), for help. Palmer (Dennis Haysbert) meets with an Arab ambassador, who requests an exchange of intelligence information on Second Wave. Palmer agrees, despite the protestations of Lynne (Michelle Forbes) and Roger Stanton (an uncredited Harris Yulin).
Day 2: 12:00 PM-1:00 PM Photos
Discussion Forum
Discuss 24 on our TV talk forum!