Day 2: 2:00 PM-3:00 PM
EPISODE: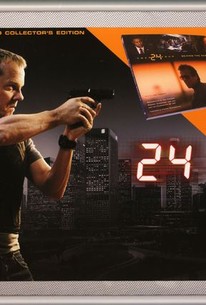 Episode Info
Jack (Kiefer Sutherland) and Nina (Sarah Clarke) arrive at the airport and meet with an FBI agent, Phillips (Michael Cudlitz of Band of Brothers), who is determined to keep Nina safe. They fly to Visalia, where Nina meets with Faheen (Anthony Azizi). Things go wrong, Faheen ends up unconscious, and Nina tries to escape, but Jack catches her, and struggles to resist the urge to kill her. Mike (Jude Ciccolella) shows up at Palmer's (Dennis Haysbert) compound. He greets Sherry (Penny Johnson Jerald) warmly, but when he hears about her conspiracy theory, he warns Palmer that she might have her own agenda. Nevertheless, he agrees to keep a close eye on Stanton (Harris Yulin), who Palmer suspects may be involved in the plot against him. Marie (Laura Harris) gets angry with Reza (Phillip Rhys) when she learns that he's accused her father, Bob (John Terry). But Bob suggests they both cooperate when Tony (Carlos Bernard) wants to take them to CTU for questioning. Left alone, a bewildered Kate (Sarah Wynter) calls her private investigator to get help accessing her father's computer files. Kim (Elisha Cuthbert) and Miguel (Innis Casey) steal Gary's car and get Megan (Skye McCole Bartusiak) out of the city, but they're stopped for speeding by a highway patrolman (Michael McGrady). Mason's (Xander Berkeley) condition is worsening. He has his estranged son (Eric Christian Olsen) brought in so he can apologize to him, say goodbye, and warn him to leave the city.
Day 2: 2:00 PM-3:00 PM Photos
Discussion Forum
Discuss 24 on our TV talk forum!