Day 2: 4:00 PM-5:00 PM
EPISODE: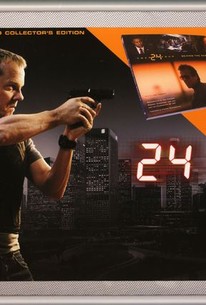 Episode Info
Palmer (Dennis Haysbert) suspects Sherry (Penny Johnson Jerald) of freeing Wieland (Michael Holden), but surveillance footage shows that it was someone else. Palmer is considering attacking the reporter's credibility, but Sherry suggests he simply tell the truth. "It's what you're good at," she reminds him. Sherry has another unpleasant encounter with Lynne (Michelle Forbes) when she gets ahold of Palmer's speech and revises it without Lynne's consent. Despite CTU's efforts on their behalf, Kim (Elisha Cuthbert) and Miguel (Innis Casey) are being brought back to L.A. Reza (Phillip Rhys), feeling that Bob (John Terry) has been using him, offers to cooperate with CTU's investigation. Meanwhile, Kate (Sarah Wynter) and Paul (Al Sapienza) have been abducted by Syed Ali (Francesco Quinn), who wants to know what they learned in looking through Bob's files, and who they told. They torture Paul, to no avail. Jack's (Kiefer Sutherland) plane is forced to make a crash landing. He's unable to convince Nina (Sarah Clarke) to give up the bomb's location as the plane goes down. On the ground after the crash, Jack revives Nina. The crash site is quickly swarmed by rogue military personnel. Jack and Nina escape and hold them off until a CTU chopper arrives, but Nina manages to get the jump on Jack and has him at gunpoint, demanding to speak to Palmer. She says she'll reveal the location of the bomb if Palmer gives her immunity -- in advance -- for killing Jack.
Day 2: 4:00 PM-5:00 PM Photos
Discussion Forum
Discuss 24 on our TV talk forum!