Day 2: 5:00 PM-6:00 PM
EPISODE: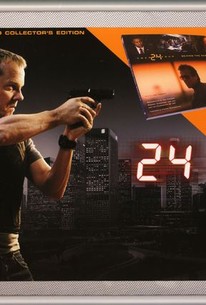 Episode Info
Palmer (Dennis Haysbert) holds a press conference downplaying the terror threat and explaining that he withheld information in the best interest of the country. While CTU uses Nina's (Sarah Clarke) information to track down Syed Ali (Francesco Quinn), Jack (Kiefer Sutherland) manages to draw her out into the open, where she's shot and wounded by a CTU sniper. Jack tells Palmer that the soldiers who attacked them at the crash site were Americans, from a deep cover special ops unit commanded by an NSA colonel. A CTU team heads to Ali's house, where they arrive just in time to prevent Kate (Sarah Wynter) from being killed. But Ali is not there, having gone to a nearby mosque to pray. Mason (Xander Berkeley) is slowly dying, and he warns Michelle (Reiko Aylesworth) not to waste her life. He tells her to get out of CTU if she's not happy in her work. This prompts her to express her long-suppressed romantic feelings to Tony (Carlos Bernard), who feels the same way. Palmer calls in Stanton (Harris Yulin) to talk about the NSA covert ops team, and doesn't believe him when he denies any knowledge. Sherry (Penny Johnson Jerald) comes up with more evidence that Stanton is working against Palmer. Kim (Elisha Cuthbert) and Miguel (Innis Casey) start a fire in an effort to create a diversion, and inadvertently cause Brown (Michael McGrady) to crash his police cruiser. Kim calls for an ambulance before running off into the woods. Working with a CTU agent at his office, Reza (Phillip Rhys) discovers that one of the transactions involving Ali was made when both he and Bob (John Terry) were out of town, and only one other person had access to his laptop.
Day 2: 5:00 PM-6:00 PM Photos
Discussion Forum
Discuss 24 on our TV talk forum!