A Very English Scandal: Miniseries
(2018 - 2019)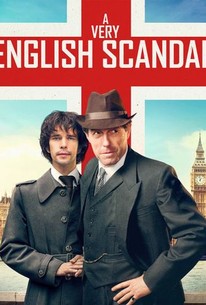 Where to watch
Subscription
Rate And Review
A Very English Scandal: Miniseries Photos
News & Interviews for A Very English Scandal: Miniseries
Audience Reviews for A Very English Scandal: Miniseries
Well acted, well produced, and quite funny at times.

Mildly entertaining trying to balance humor and seriousness. The character are not shallow and the courthouse part is totally void of providing evidence either way making it very random and unconnected from the story.

Spoiler alert - If you want a combo of fine acting, along with "elites trample the vulnerable poor" be sure to watch this depressing episode.

I'm not much of a fan of Hugh Grant. This rather affirms that. The storytelling was entertaining enough. Reasonably well done. 3 1 hour long episodes.

Wonderful. Compelling. A Very English Scandal is a miniseries about British politician Jeremy Thorpe trying to erase all traces of his relationship with Norman Scott, which jeopardizes his political career. The series is exciting from the start: the storyline is very smooth and there are no empty moments. The interpretations of Hugh Grant and Ben Whishaw are excellent and both, in particular Whishaw, manage to fit perfectly into the characters. The direction is very good as well as the script and the cinematography. A truly entertaining miniseries to watch lasting only three hours.

It's always exciting when something crazy enough to only be fictional is based on a true story. I love the fact that this was a very short (3 1-hour episode) miniseries rather than a multi-season show or a very long movie. Would love to see this happen more frequently. The chemistry and performances by Hugh Grant and Ben Wishaw were out of this world.

Ben Whishaw and Hugh Grant are riveting in this 3 part BBC miniseries about love, power, politics, and corruption. Russell T Davies does it yet again. Superb!

Such a great show! Excellent from beginning to end. Hugh Grant and Ben Whishaw did such a great job.

A well-made TV serial on a truly engrossing political character. Hugh Grant's performance is his finest ever. Whishaw is almost equally powerful and good. It also helps that the serial is wrapped up in three hours - extremely tightly wound and well-edited.

Great acting, amusing characters.
See Details