And Then There Were None: Miniseries
(2015)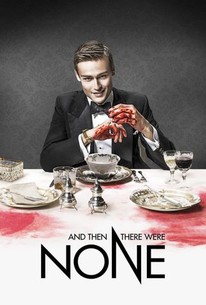 Rate And Review
Episodes
Air date: Mar 13, 2016
Ten strangers are drawn away from their normal lives to an isolated rock off the Devon coast. As the mismatched group wait for the arrival of the hosts, the weather sours and they find themselves cut off from civilisation, with a murderer in their midst.
View Details
Air date: Mar 14, 2016
The guests on Soldier Island are dying, one by one, according to the rules of the nursery rhyme Ten Little Soldier Boys. As they make plans to combat the killer, the body count continues to rise - and dreadful secrets are brought into the light.
View Details
Air date: Apr 6, 2018
Cut down to half their original number, the surviving guests of Soldier Island are in danger of losing their minds. With the likelihood of survival rapidly diminishing, they must turn to one another for comfort and protection, but trust is in short supply.
View Details
And Then There Were None: Miniseries Photos
Audience Reviews for And Then There Were None: Miniseries
As an ardent Christie fan, any modern interpretation of her work must instantly work hard to find itself upon even footing. The cast is wonderful, particularly Burn Gorman and Aidan Turner. The older, perhaps most-known stars of Sam Neill and Charles Dance give by-the-numbers performances with Dance adding a bit of extra flavour. Maeve Dermody gets probably the largest amount of screen time, and does alright. The series gives some superb instances of dark atmosphere and some intriguing additions that inject an air of humanity into the tale, but at the cost of a few puzzling choices. A few of the backstories are muddled after being precisely set up by Christie and quite necessary to remain fixed due to the ordering of the murders, not to directly spoil it. The sex scenes were a bit random and had no real purpose. The appropriately macabre take has its moments, but cannot be regarded as a complete success. The spirit of the ending is retained with a few twists of convenience and accessibility that ends the exercise on a positive (albeit morose) note without getting wrapped up in the Hollywood ending of the 1945 film.

Phenomenal! Aidan Turner's performance was exceptional, as well as Maeve Dermody, who portrayed Vera Claythorne. I always loved the dark mood, and I really like how all the relationships between all there characters and how they continued through the series, which I thought was very realistic. For someone who has read the book, I will still shocked at everything that happened because everything was so surprising and thrilling. I think everyone did a perfect job in making this brilliant mini-series.

Wanted to enjoy this so much but it wasn't meant to be. I found it quite dull and didn't feel the tension at all. The acting was really good which was a bright spot. The premise was interesting and had potential. But imo the execution failed.

Easily the best adaptation of the mystery so far, with absolutely brilliant camerawork and fine performances from the entire cast (kudos especially to Anna Maxwell Martin for making Mrs. Rogers far more than the throwaway character she is in most of the other adaptations). If I have a quibble, it's that I don't think screenwriter Sarah Phelps thought through some of the changes she made - it's hard to see how three of Mr. Owen's victims could have gotten away with their crimes in the first place, and changing Blore's crime in particular makes me wonder if she really understood Mr. Owen's mindset.

one of the best mystery movies ever!

The endless and interminable flashbacks add very little to the story, giving the story a sense of self-importance that is quite ridiculous for such a pulpy premise. That said, the actors are excellent, and so is the costume and production design. Still prefer the 1945 adaptation.

Easily the best adaptation of the story so far, even better than the original.

it's actually better than the 1945 movie!

Oh my god! What an incredible mini series!

Best modern adaptation of Agatha